Water Treatment - Cosme (Florida)
While wandering around playing Ingress, I walked onto a fence with barbed wire. Slightly strange as I was pretty far from the road and I began following the perimeter of it. It didn't take long until I stumbled upon the following sign.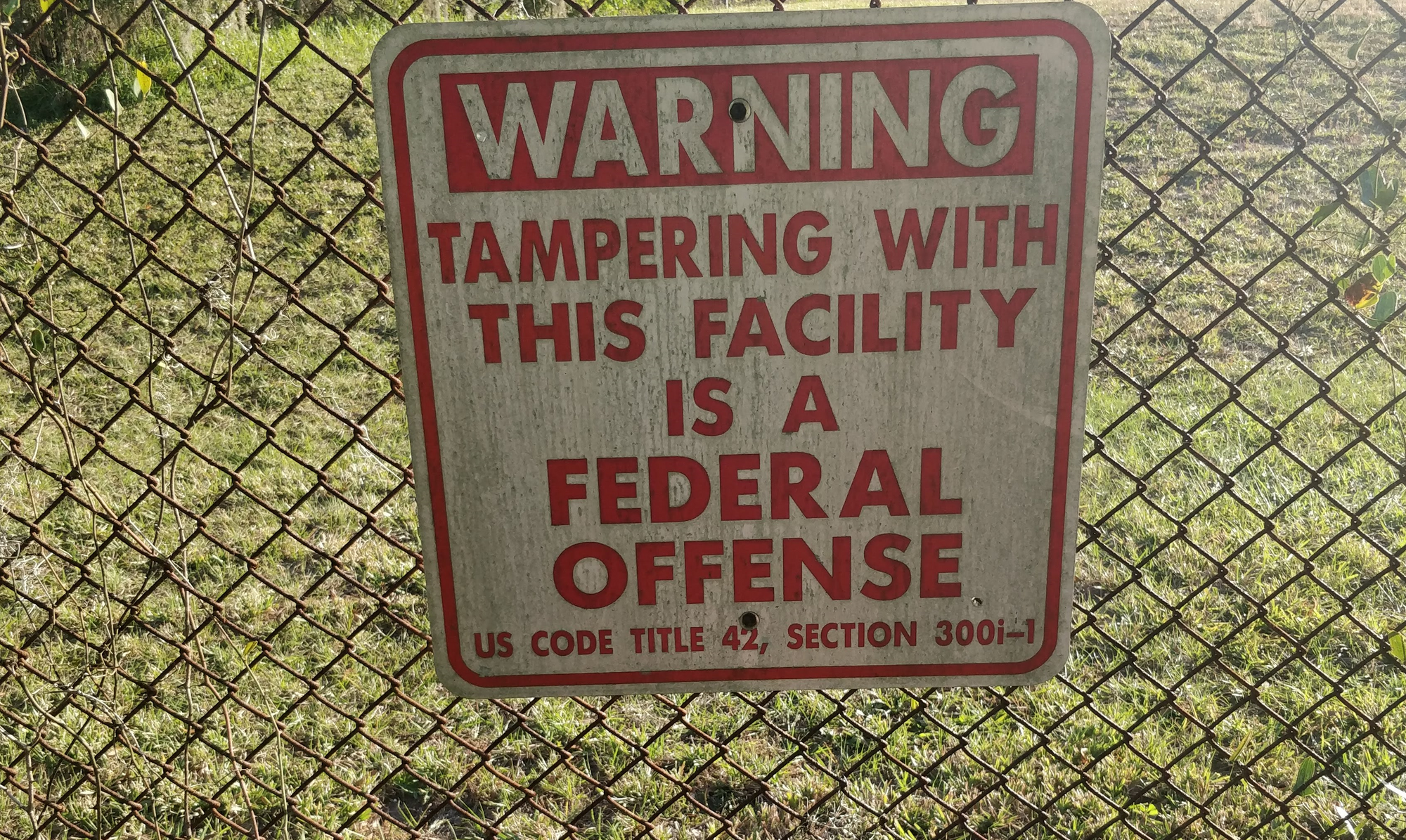 It was the first time I had a seen a sign like that up close so I quickly googled the code it referenced.
42 U.S. Code § 300i–1 - Tampering with public water systems
Law Cornell
Three years living within five minutes of this location and while I recognized some weird silos and buildings I never connected it with a water treatment center. If we take a look at Google Maps, we get a better picture of the location.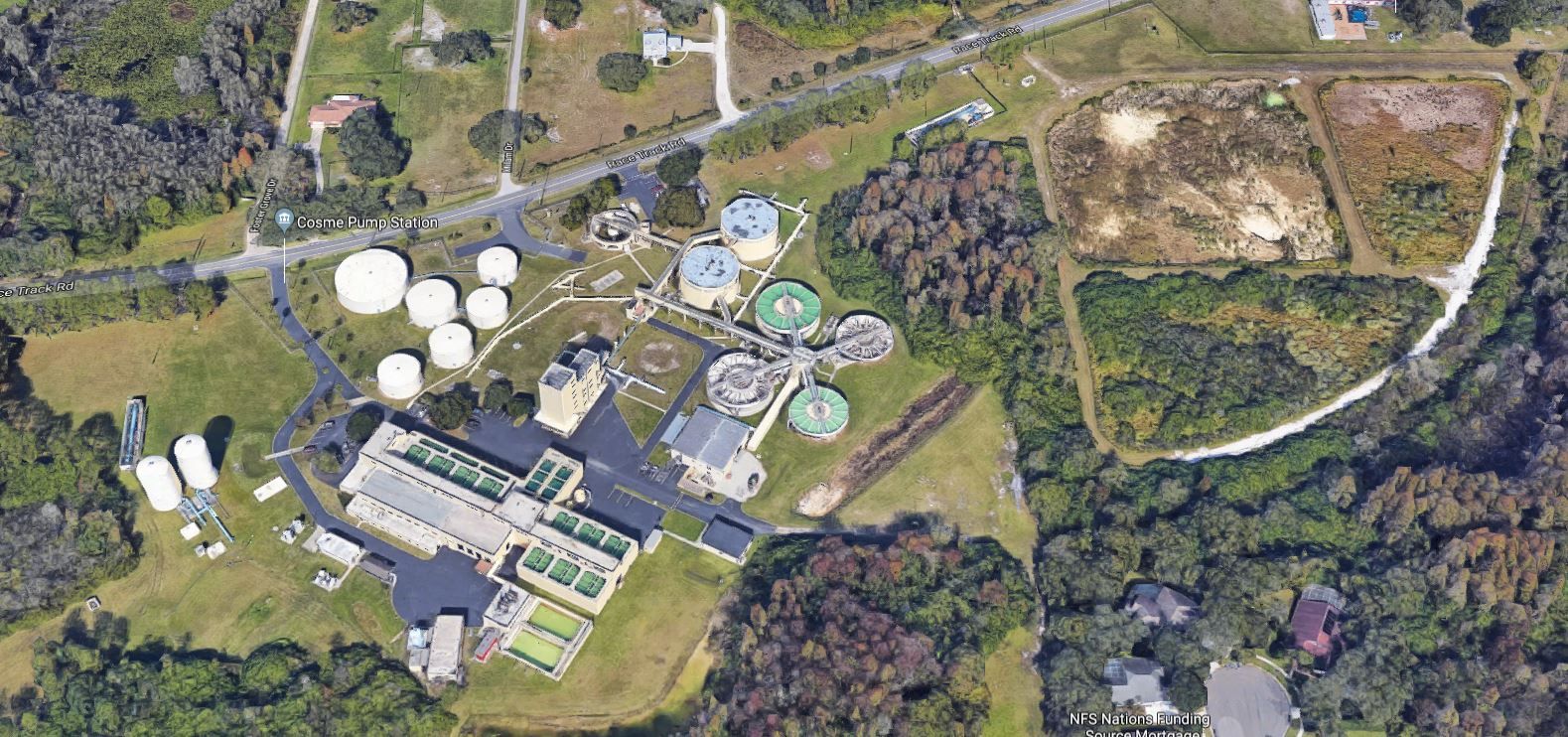 I stumbled upon the east fence while playing a game, which looks to be unused land on the surface.
What was slightly weird is all the warning signs around this property referenced St Petersburg. I was in Keystone, which is at least 45 minutes from St Petersburg. So why was this treatment plan for a city nearly an hour away?
The History
In the late 1800s, St Petersburg used Mirror Lake as the source of drinking water. This was a spring fed water source, but by 1920 was showing signs of saltwater intrusion. With the explosion of population to the area and no method of removing salt from water - the city went exploring.
It was found in Northwest Hillsborough County, and in 1930 a 26 mile pipeline was constructed to carry fresh water from deep wells located there to the city.
Treatment & Supply - St Pete
So quite the engineering feat to construct a 26 mile pipeline to carry this new source of water to the destination. That was nearly 100 years ago, which means no way that a groundwater had been the source of drinking water for this massive city.
The Present
Tampa Bay Water is sourced from 3 different water sources at this point in time (December 2018).
Groundwater
Surface water
Sea water (Desalinated)
Groundwater
To the untrained reader, this type of water is not water found on the ground but water deep within the ground in aquifers. The Floridan Aquifer is the main limestone layer that collects billions of gallons of water that seeps down from the surface.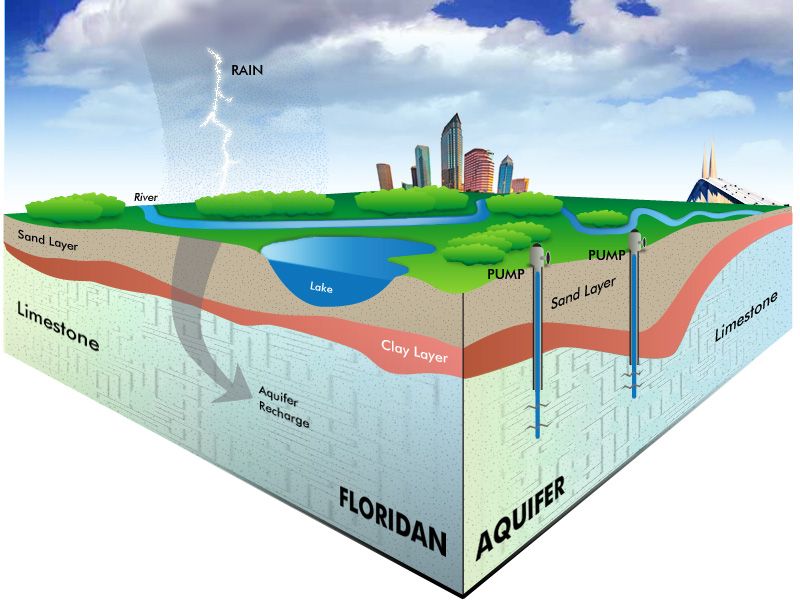 Tampa Bay Water is permitted to withdraw an annual average of 120 million gallons per day (mgd) from 13 wellfields in Hillsborough, Pasco and Pinellas counties.
Tampa Bay Water - source
Surface water
This water source was the first addition to groundwater in which water is skimmed off rivers around the city. This water during rainy seasons is stored in a massive reservoir capable of holding 15.5 billion gallons of water. I was curious what this body of water looked like, so off to Google maps again.

I'm not sure what I expected, but a large pond like structure fits that thought. It seems this water is used
The reservoir measures approximately 2 miles long by 1 mile wide with depths varying from 40 to 80 feet. Surface water collected here could stay in storage for months, so the water must be aerated and circulated to prevent algae blooms and protect taste and odor.
C.W. Bill Young Regional Reservoir
Seawater (Desalination)
The final type of water which separates Tampa Bay Water from others is the ability to take sea water and produce fresh drinking water through a process known as a reverse osmosis.
High pressure forces the pretreated water through semi-permeable membranes to separate the freshwater, leaving twice-as-salty seawater and other minerals behind.
The size of each RO membrane pore is about .001 microns, which is about 1/100,000th the diameter of a human hair.
Tampa Bay Seawater Desalination Plant
This process can not produce as much drinkable water as ground and surface water, but can be combined, as needed, with the other sources. Tampa Bay Water provides up to date statistics on this.

| Type | Millions Gallons Per Day (MGD) - Nov 2018 | |
| --- | --- | --- |
| Groundwater | | 104.6 |
| Surface Water | | 69.8 |
| Sea Water | | 0 |
A random adventure led me to a water treatment plant that put me on a Google search marathon. I took drinking water for granted without knowing what it takes to make it happen.