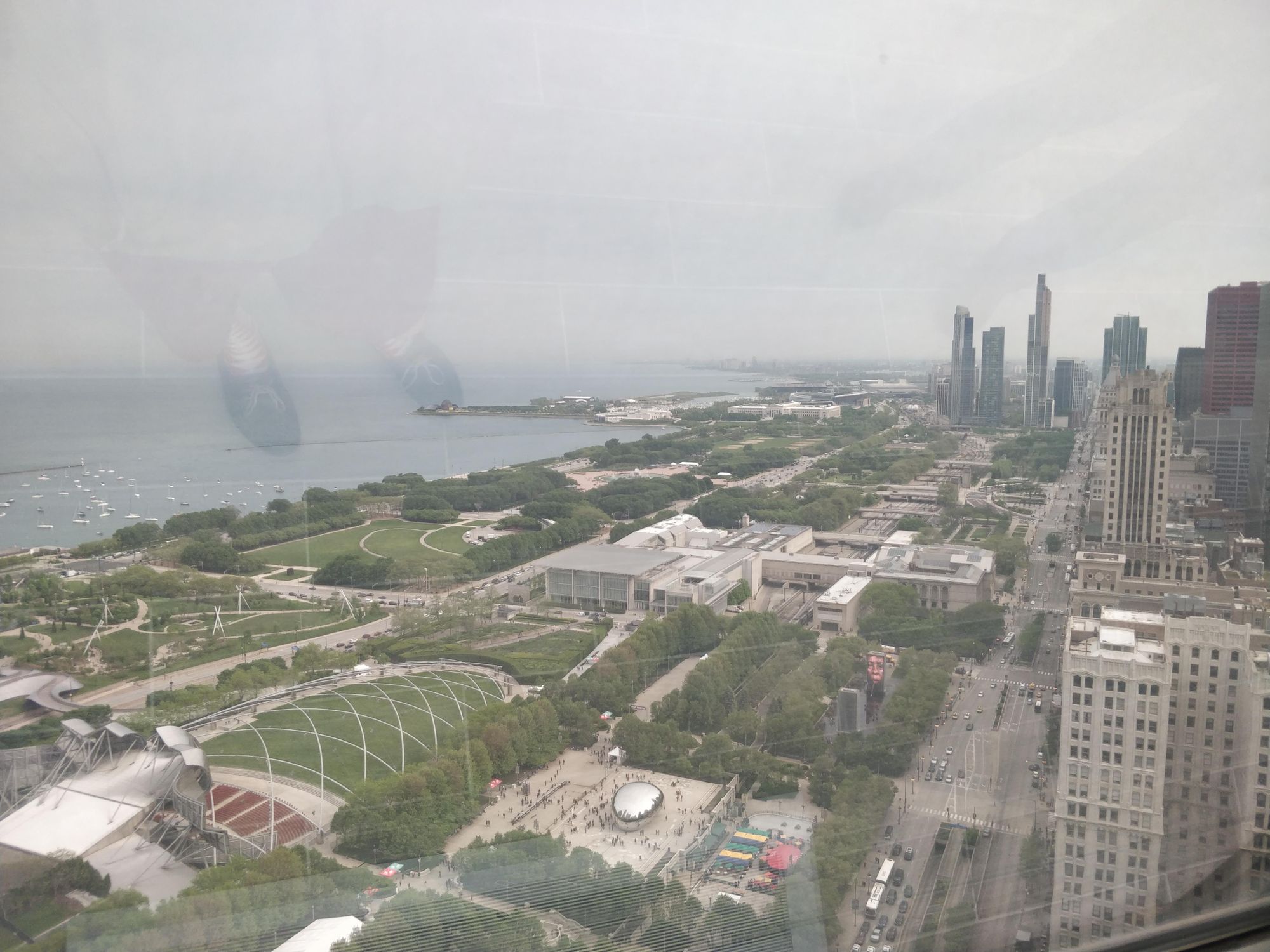 Another early Uber arrives at my apartment, 20 minutes earlier than the scheduled departure (4:05am). I feel rushed even though the driver explained I shouldn't have been rushing - he was ready to wait till the scheduled pick up time. This time I have a direct flight into the city of Chicago.
I lucked out with an early flight getting into Midway before any true bad weather arrived. Friends arriving later experienced delays of 3-5 hours due to the extreme weather resulting in tornado in various parts of Illinois.
Once I arrived, I had to figure out how to get to the train so I could take the orange line from Midway into downtown. I looked like a classic noob trying to purchase a 3 day train pass - putting in my card the wrong way multiple times until a staff member told me what I was doing wrong.
Once I finally had a ticket, I got my bag stuck in the turntable to proceed onto the train station, so I looked like an idiot trying to unbind my bag from this metal rotating rod. Once that was resolved, I was on the train and riding it for roughly 13 stops to right in front of my hotel.
Downtown urban cities always seem like an interesting place to me, but I would never live in them. Walking reigns supreme and options for food exist on every corner. Stoplights seem to favor the walker and cars wait on them even as they continue to walk into the street after the walk signal has turned off.
However, the smell of some streets is disgusting compared to the ocean breeze that Florida brings. The amount of homeless individuals who walked up to me trying to persuade me for money was insane. Perhaps I'm dressed like a tourist and easy to spot.
As Saturday night rolled around, my group of friends had reserved a bar with a $5 cover. The entire bar was empty until our group of ~150 showed up and from there the night went on. Drinking into the next day then stumbling home in the streets of Chicago is quite the experience. The city awakes at night and you can experience that all while walking home intoxicated.
Nothing food wise in this city was anything to scream about, but the bar food was on point. No matter what place I drank at - there was a smaller menu for bar options while drinking. The preztel at Highline was a pretty amazing, but it was also 10:30 at night so not sure if my senses just wanted some food after all the gin I drank.
I drank too much and slept too little and woke up too early, so here I sit in the airport writing a post on a Sunday as I barely sit here functioning. I need sleep and I doubt anything I wrote above was coherent. However, the weekly posts must go out and a bad hangover and flight will not mess up my Sunday blog releases.