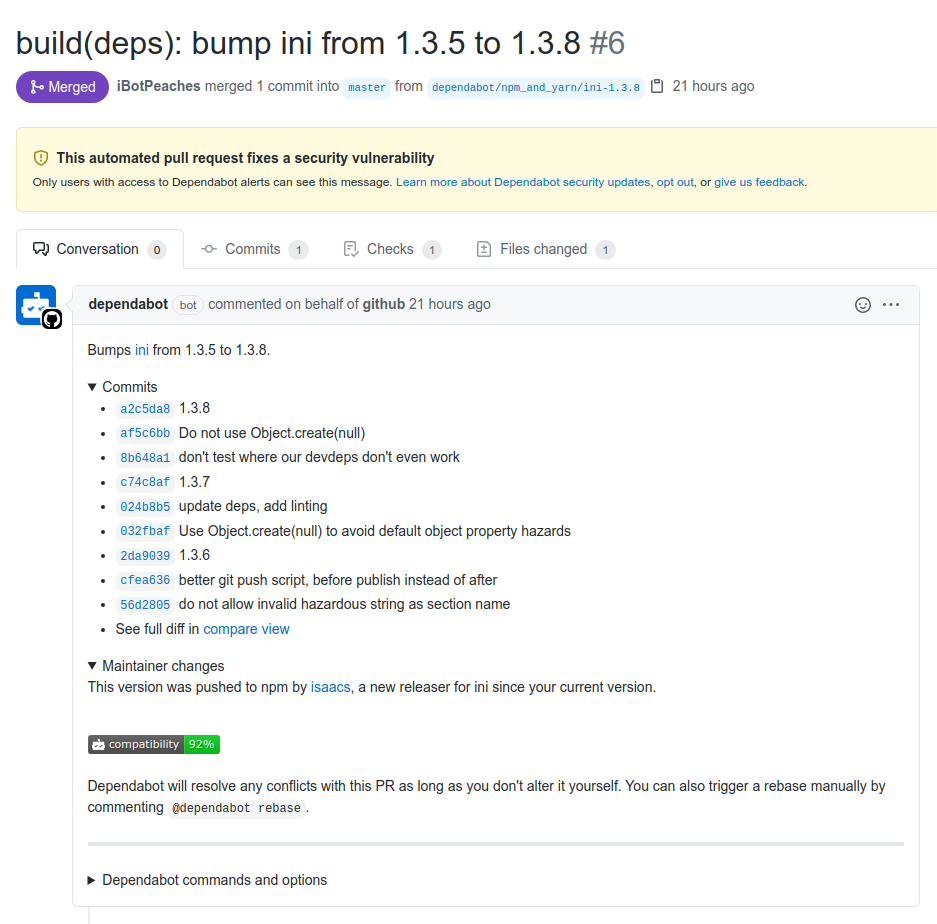 So for this blog I want to run through my checklist & brain dump when a security pull request comes in. For a little background, the Dependabot project was automating detection of vulnerable dependencies and automatically producing a change to the project to resolve it. It cost money, but then GitHub acquired it and gave it to everyone for free.
So in short - every single project owned had it enabled overnight. Since the ecosystem for child dependencies in both PHP & Node became unmanageable. Lets take the above project "ini". What is it? I sure as hell never installed it directly.
Right off the bat, it lives in the "npm" namespace which is a bit strange. Since it seems strange that npm itself would be hosting a project. We can take a look at the package.json and it wasn't always this way.
"url": "git://github.com/isaacs/ini.git"
So the project lived at isaacs namespace and then moved to npm. I can't find any authoritative source that explains the exact reasons this happens, but there are 322 other repositories under npm so I imagine it happens for crucial dependencies that become slightly abandoned. To prevent the accidental project takeover, abandonment and/or deletion.
So lets figure out why I even have this package. Since if it's unused - lets drop it. Yarn has a helpful command known as "why" that will do just that.
➜  project git:(master) yarn why ini
yarn why v1.22.5
[1/4] Why do we have the module "ini"...?
[2/4] Initialising dependency graph...
[3/4] Finding dependency...
[4/4] Calculating file sizes...
=> Found "ini@1.3.8"
info Reasons this module exists
   - "laravel-mix#webpack-cli#global-modules#global-prefix" depends on it
   - Hoisted from "laravel-mix#webpack-cli#global-modules#global-prefix#ini"
   - Hoisted from "laravel-mix#webpack-cli#findup-sync#resolve-dir#global-modules#global-prefix#ini"
info Disk size without dependencies: "20KB"
info Disk size with unique dependencies: "20KB"
info Disk size with transitive dependencies: "20KB"
info Number of shared dependencies: 0
Done in 1.05s.
Turns out this dependency exists because of Laravel Mix, which requires Webpack CLI, which requires Global Modules, which requires Global Prefix which requires finally - ini. If that was complicated to read, we can leverage npm for a tree view.
➜  project git:(master) ✗ npm ls ini             
/home/ibotpeaches/Projects/PHP/project
└─┬ laravel-mix@5.0.9
  └─┬ webpack-cli@3.3.12
    ├─┬ findup-sync@3.0.0
    │ └─┬ resolve-dir@1.0.1
    │   └─┬ global-modules@1.0.0
    │     └─┬ global-prefix@1.0.2
    │       └── ini@1.3.8  deduped
    └─┬ global-modules@2.0.0
      └─┬ global-prefix@3.0.0
        └── ini@1.3.8 
So basically this dependency is in use because something 4 layers deep than a direct dependency uses it. A bit scary, but that is the ecosystem we live in. It isn't feasible to audit all code that every dependency uses.
---
So now we have the security pull request above, which correlates to a low severity prototype pollution.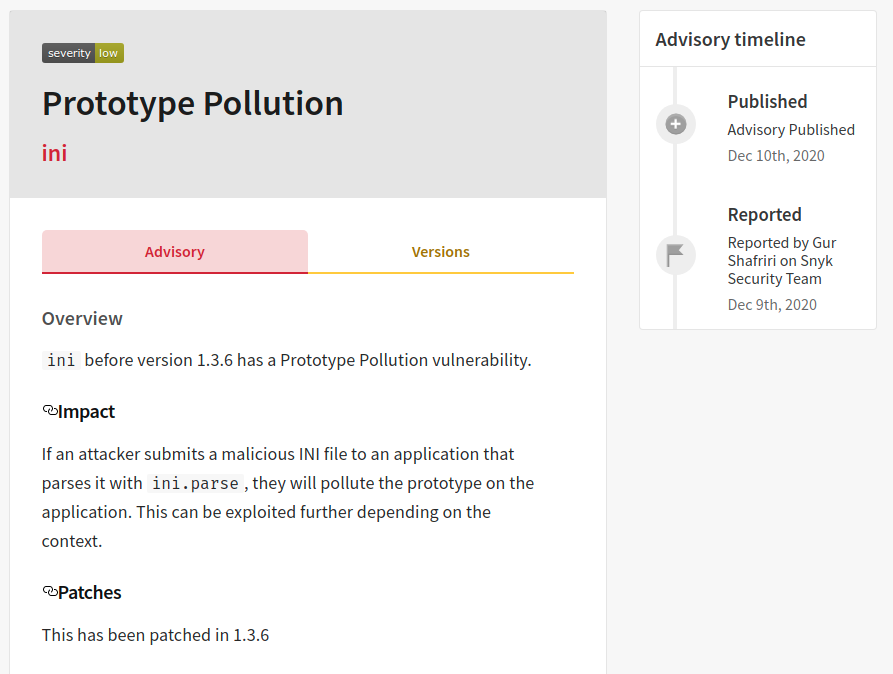 So we can see I was running version 1.3.5 and now being upgraded to 1.3.8. The advisory will even show me the exact commit that fixed the issue, but I'm not too interested in that. I want to quickly scan the diff between what I have and what the new version is to look for nefarious changes.
Thankfully, GitHub and Dependabot offer a compare view to examine the diff.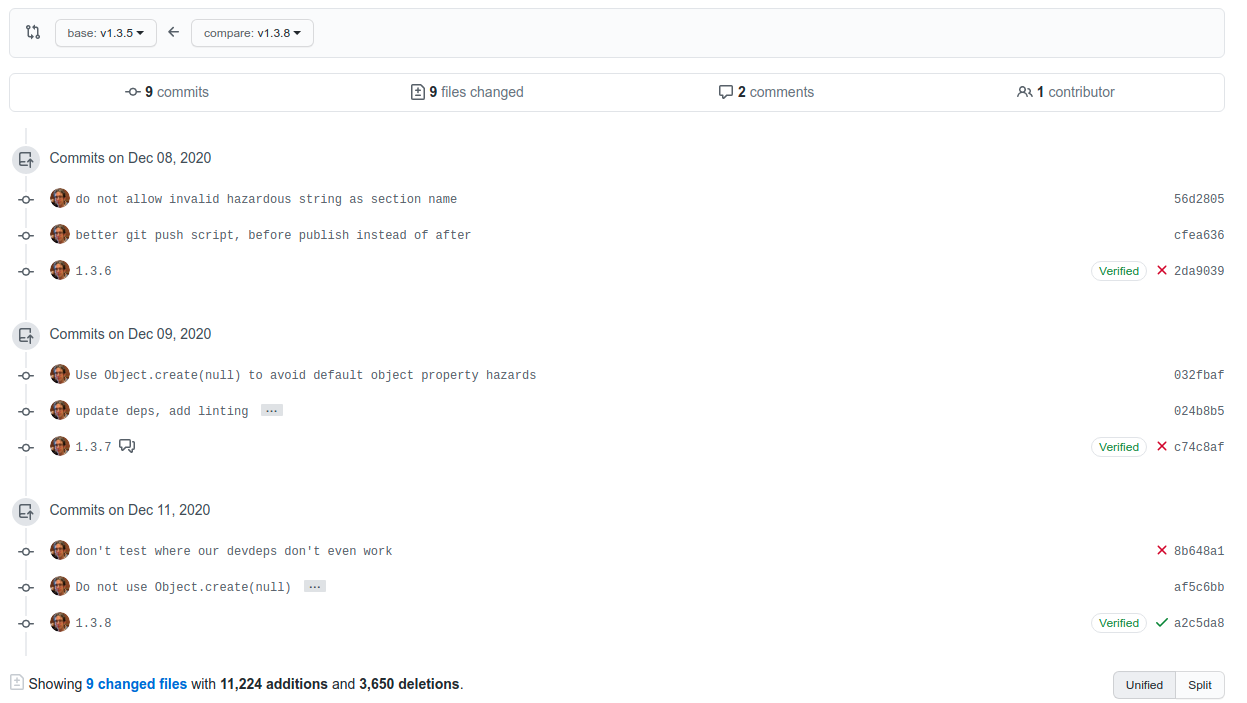 This is a lot of changes (9 files, 11,224 additions and 3,650 deletions) to review. Thankfully looking at the diff we see the majority of changes occur in the package-lock.json. A security fix that is also updating its dependencies is slightly alarming, but a quick inspection shows its all dev dependencies.
With that I see tons of changes in regards to CI/automation and linting. This means that most files have spacing changes, but after some scrolling you can spot the security fixes.


So after a quick examination everything looks safe. With the amount of scrutiny put into checking a security upgrade sanctioned by GitHub - it probably is unnecessary. Since I don't exactly do this to every 1058 package I have during a yarn upgrade command.