Travel Blog: San Francisco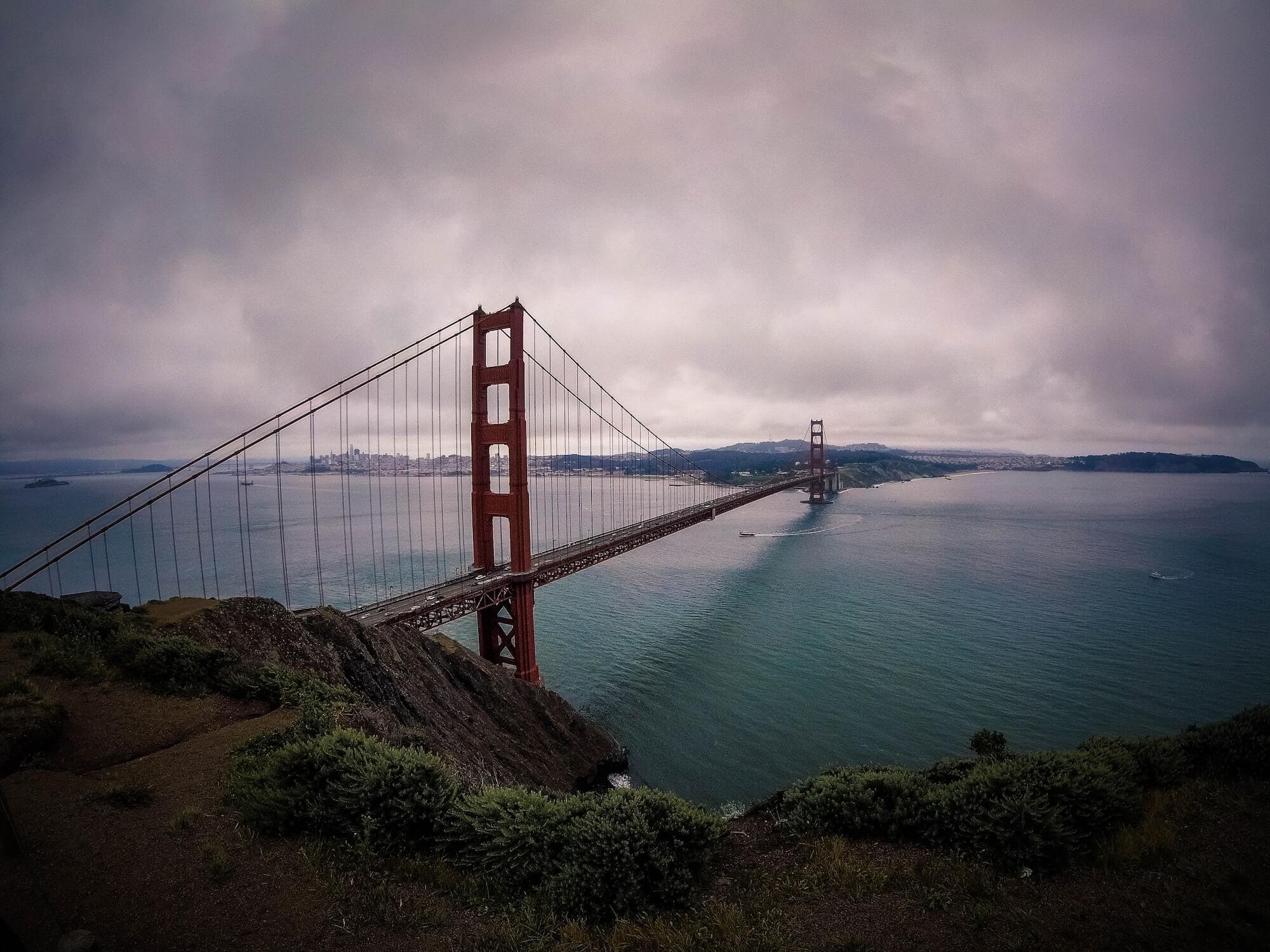 Boarding a plane and hearing the estimated travel time as 5 hours and 5 minutes for someone who doesn't travel internationally sounded terrible. Sure enough flying through the air at 30,000 feet for 5 straight hours did begin to ache the back, but once done I had landed in SFO airport.
The wedding I was attending though was in Berkeley and I landed in San Francisco so I decided to take the train. Just getting to the train was the biggest struggle for me as I had to figure out how to get to the right floor, take a tram to the BART location and then figure out the right train to get on.
I was pretty excited to drive over the water, but then I quickly realized this was a subway and that was going under the water. I've only got experience with a few train/subway trips in my existence now, but I feel like the underground subways are a bit less preferred then to the Chicago style of above ground.
Either way I made it to my intended location with luggage in hand and off to a restaurant. Still feeling the Florida time of 3 hours ahead, but arriving around 11 local I was surprised to find that many places would not be open until 11:30. So I walked until I hit the first restaurant to be open, which was Eureka.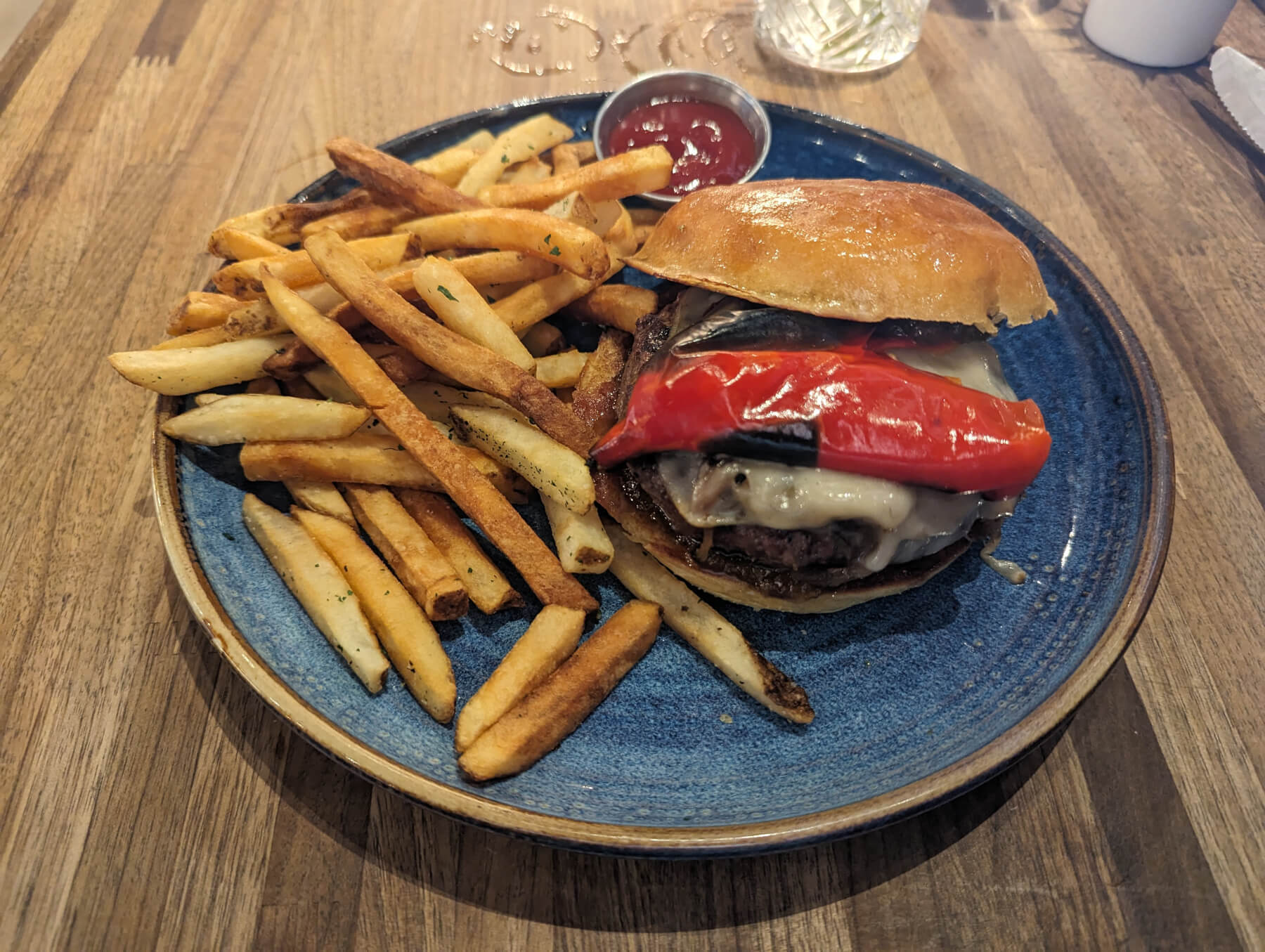 The burger was messy and good and the fries crispy. It was a good first meal after flying all morning. If they had some better napkins that could absorb the grease this burger was emitting - it would have been perfect.
Once that meal was done a few other family members had arrived and we stayed at the place above. Enough time then passed and our Airbnb was ready, which I Uber`d towards so I could offload my bags.
The rehearsal dinner was that night and I quickly learned that Uber's in Berkeley were pretty hit and miss. With only 6 purchased trips that weekend two of them had 20+ min delays before a ride was available. So a tiny bit of a late arrival and a wedding event was in progress.
This was the first time at a wedding that I felt much more connected to most chunks of it people wise. In some weddings I'm the friend of the bride/groom and don't know the family. In some weddings I'm the family and don't know the others. In this wedding I was the family and the friends, which took a bit to balance all those parties together.
When Saturday morning arrived we had a solid 6 hours to kill before the wedding would start. So we were off to look at some of the large trees of California.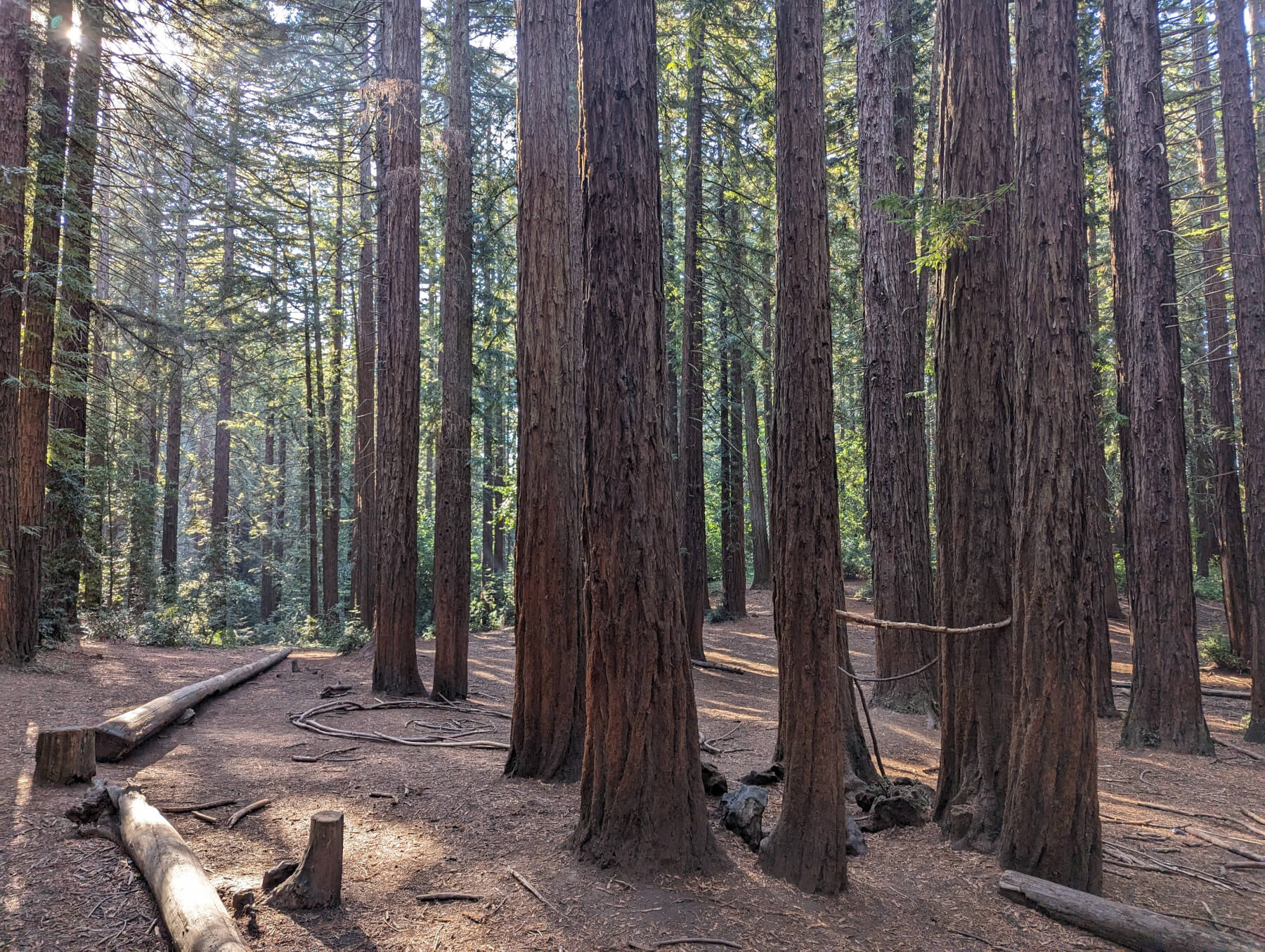 It was a crisp cool morning with gusts of wind making me wish I had packed a jacket. This was a relaxing start to the day for the wedding party before we had to be at the venue. I wish I had taken more photos of the Blair Witch like stick creations that littered the woods.
Once we were done in the forest - we stopped to eat some lunch. This time to prevent the issues of the past (food poisoning during wedding) we stayed to eating pretty safe foods.
As we purchased a fancy Uber Black this was quite the short complicated trip to the venue. It was stop sign and hill one after another until we were in a park above the town.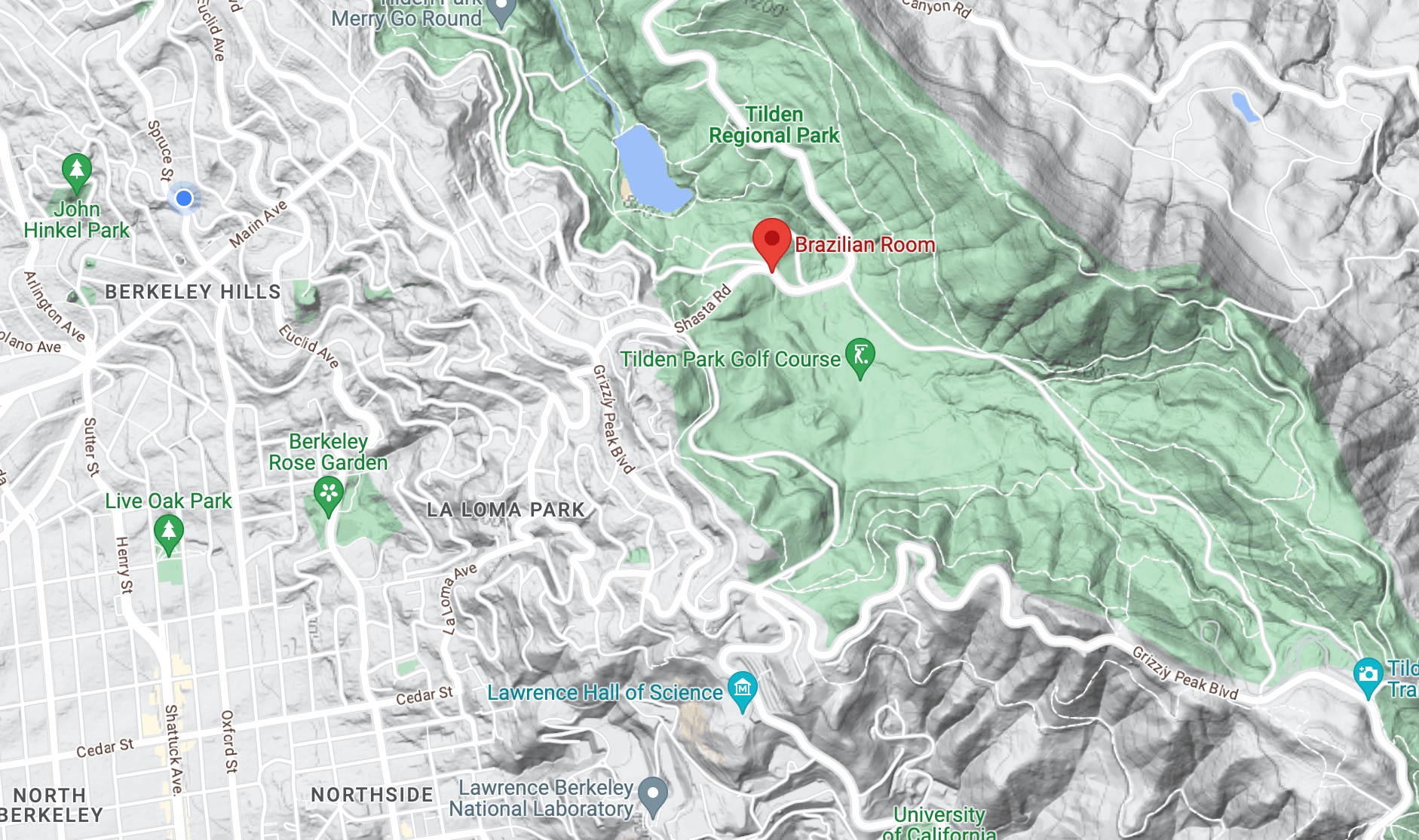 This terrain map shows it best when you see how much incline occurred on the way in. Once there - it was an elegant building known as the "Brazilian Room" on top of East Bay park.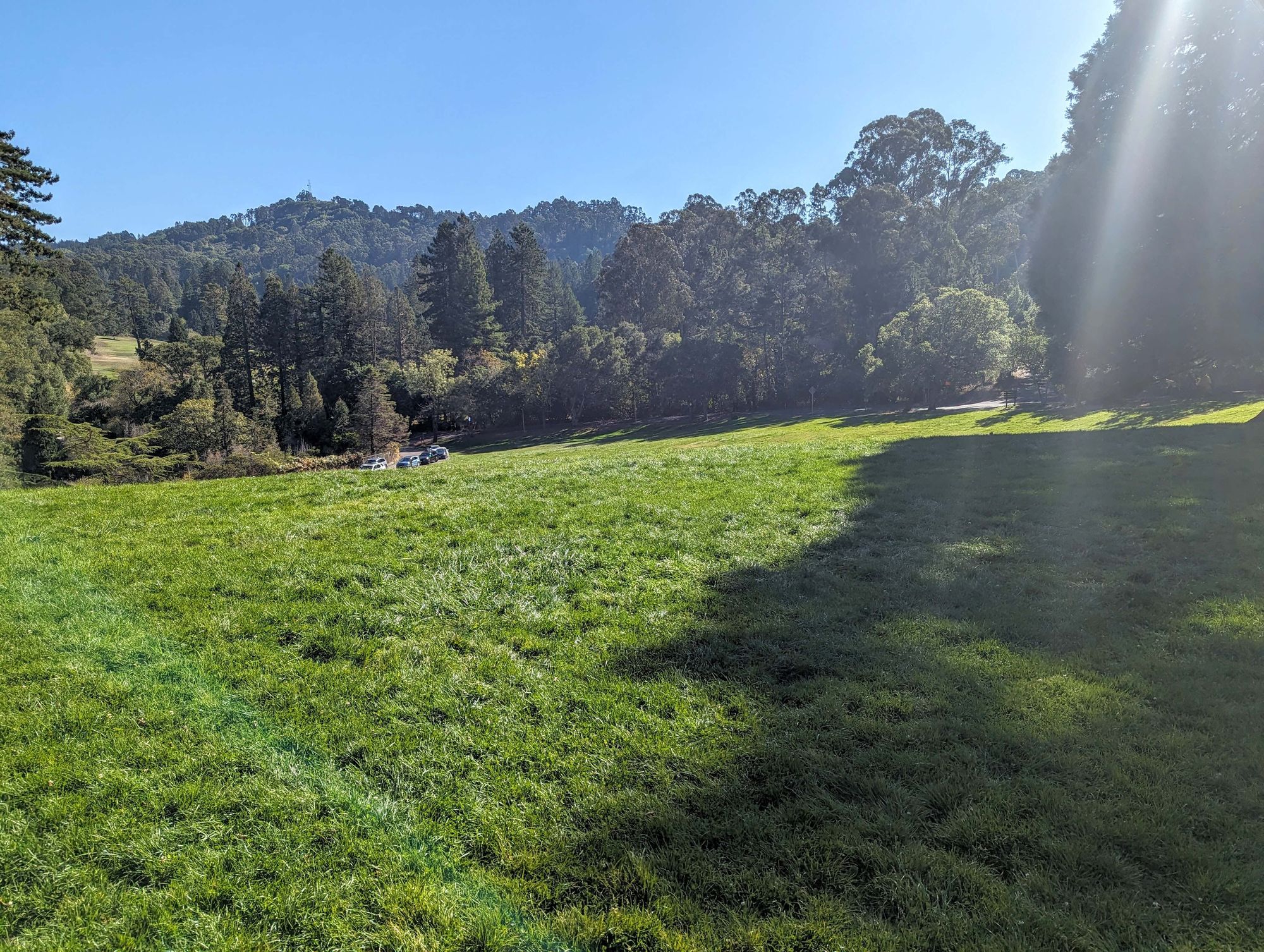 From this photo it looks like a random patch of grass which doesn't really give the view justice especially since none of the venue is in the photo. At this point at a venue with pretty much no cell service and a professional photographer - my phone and camera went away.
The wedding went on into the night with drinks and dancing. I went from ciders to wine to a gin & tonic while dealing with an increasing amount of back pain. Getting an Uber out of this place was a challenge - you had to use the venue Internet to request an Uber, but then the Uber couldn't confirm the pickup or properly navigate with no service.
It led to some interesting detours that were ended the instant cell service became available as the driver had instant corrections on the route to take. It reminded me a problem I heard is quite frequent here. Travelers take an Uber into the forest for a drop off, then realize they have no signal for the Uber to request home. I'm not carrying an Ingress backpack full of hot spots and mesh routers, so at times on Google Fi I found myself with no service.
Saturday night came to an end and a few hours of sleep were had as many were flying out as early as 5am. Once again the time shift here of a 10:30pm blog post release in Eastern time puts me in a position to have a fully written post by 7:30pm local time. I'm normally writing these travel posts at the end of the night Sunday, but I'm in a pickle again that the weekend won't be over when the blog post is due.
So Day 3 on Sunday may be here, but you the reader won't know what happened. For now - its a travel day and hopefully goes well. I'll probably be on a flight when this post goes live.