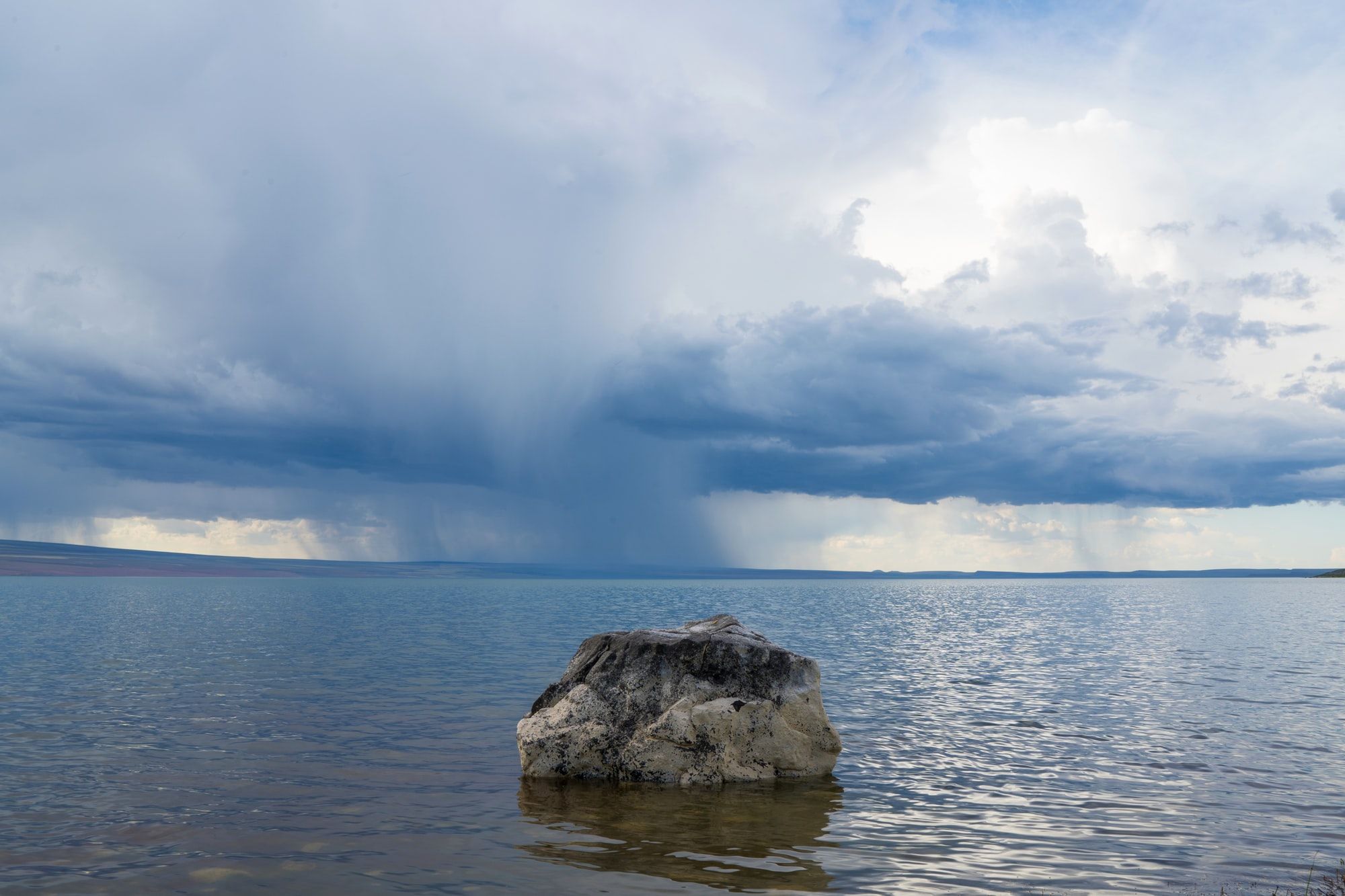 I first started this series in January discussing Wuhan and again last weekend discussing the classification of COVID-19 becoming a pandemic.
A lot has changed since then, so this blog is another week of sad depressing news.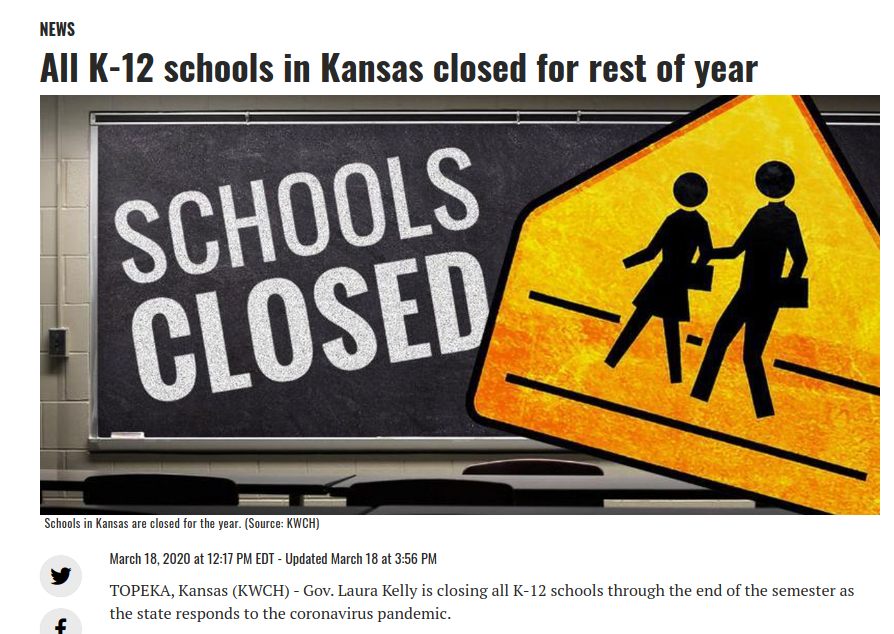 The first bit of crazy news was the announcement that my home state of Kansas was closing all Kindergarten through 12th grade schools for the remainder of the school year. That was on March 18, which basically is around spring break, so spring break was now extended permanently.
I didn't get out of school till end of May or even June depending on the amount of snow days. So kids that normally get June, July and a part of August for summer vacation now have the remainder of March, April, May, June, July and parts of August. That is insane to think about with all the parents and logistics that goes into raising a child who is no longer at school.
---
More locally, Florida put out a notice that restaurants must only be 50% full for dining and all bars/nightclubs are to be closed for 30 days. This was only for about 72 hours until things got kicked up a notch.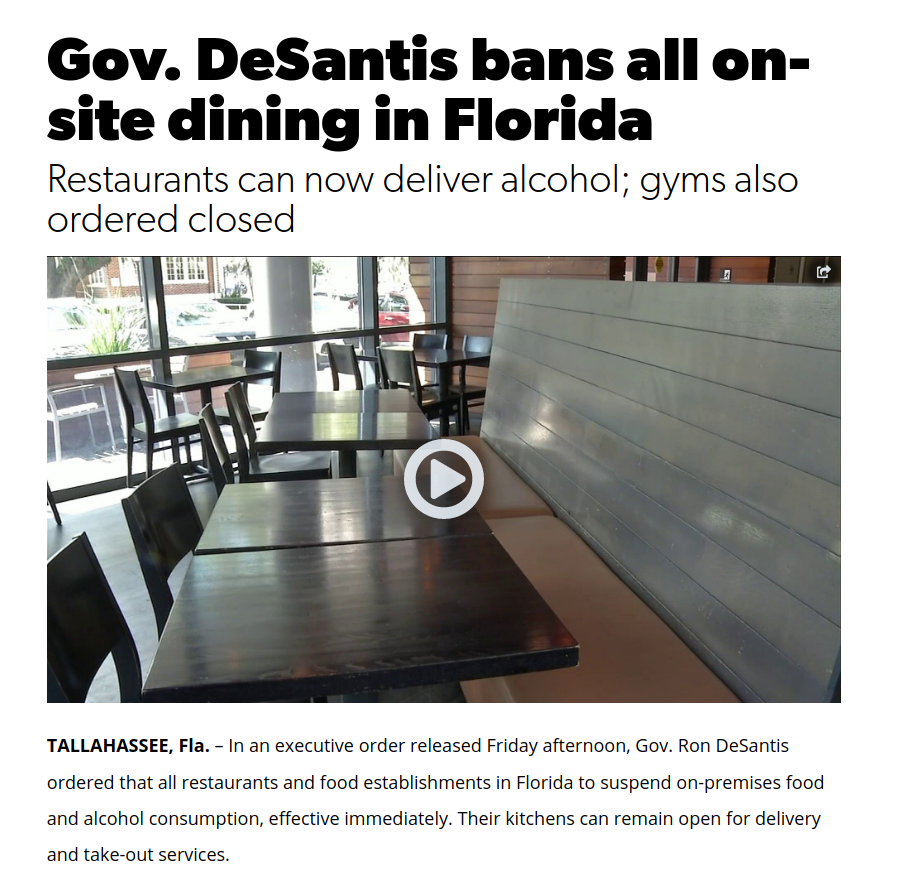 Our governor (Ron DeSantis) put out another executive order this time suspending ALL on-premise food and alcohol consumption effective immediately. Instead forcing all establishments to leverage delivery and take-out options. As part of this change, alcohol was also allowed to be delivered and/or picked-up as long as this order was in place (and of legal age of course).
Also included, but not really talked about was the closing of all gyms and workout facilities.
I don't know how something like this is enforced, so I decided to walk down to the grocery store near me and see what I could find. For every store I passed I jotted down what I saw.
McNatt Cleaners - sign - hours shorter - closed on weekends.
Yoshi Sushi - sign - "togo orders only" written on it.
China Dragon - sign - closed for 1 week.
Papa John's - sign - hours shorter - open for pickup/delivery.
Yogurtology - sign - no sitting inside.
Louis Pappas - sign - takeout only - shorter hours.
Smoothie King - no sitting inside - shorter hours.
Pinch a Penny - Table in front of store, no going inside. Tell person what you want, then wait outside.
Advanced Dental - Sign about cleaning procedures.
Nails n More - Closed until further notice.
Great Clips - Closed (due to weekend).
Publix - Cleaning stations, max of "1" of listed items.
I have never seen anything like this in my time. Hurricanes had a dose of this, but the difference was the majority of people leave during hurricanes so while some stores are closed - the open ones aren't packed.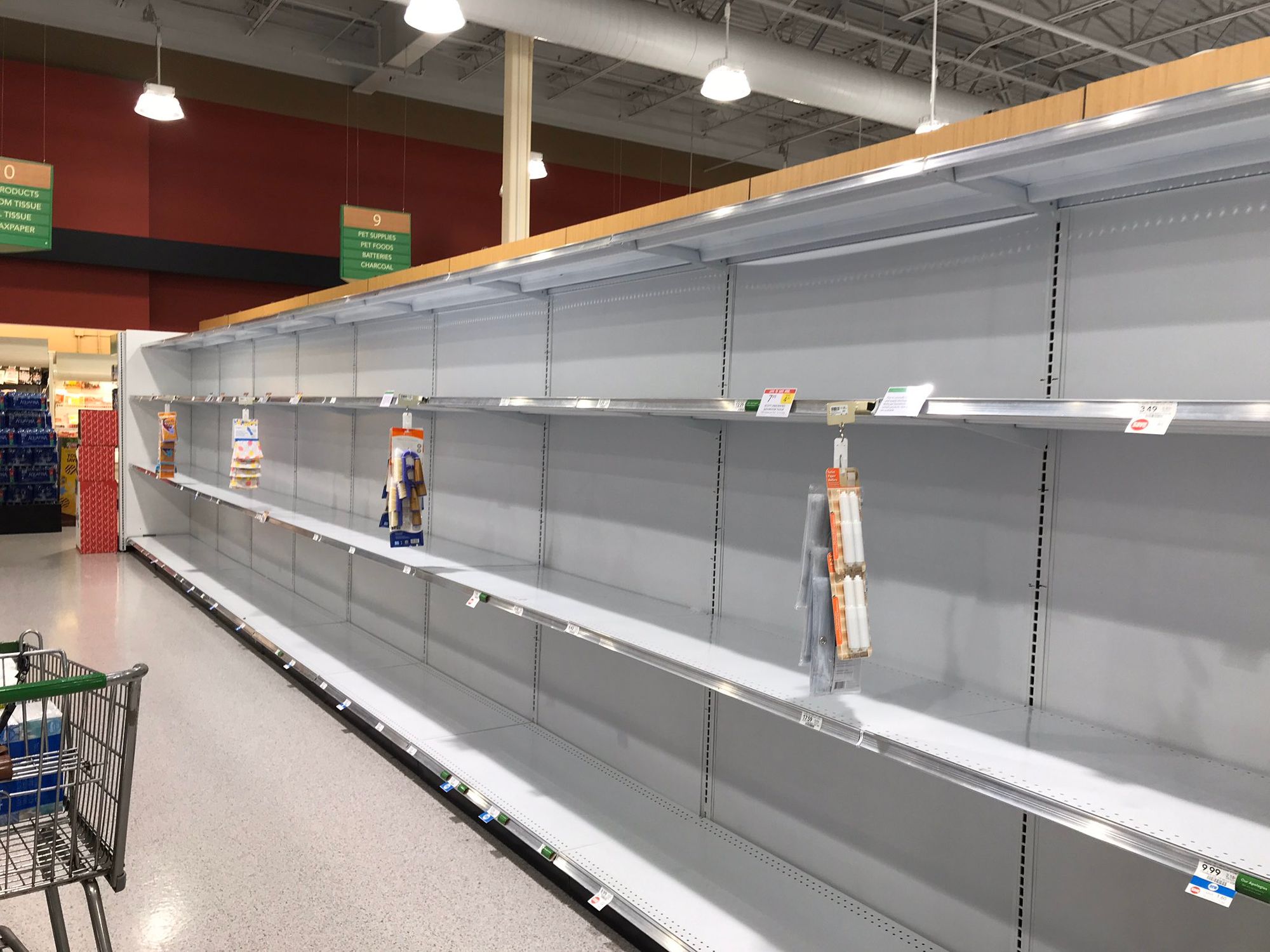 I walked into a Publix where people were crowding the employee area waiting for palettes to come out with items that were immediately grabbed. Shelves were empty beyond belief with things like milk, paper products, beef, toilet paper, soap and cleaning products just completely gone.
The folks walking around ranged from bio-hazard mask and gloves to folks dressed like every day Florida attire. Staff quantity looked to be the amount of staff usually there around Christmas and Thanksgiving - a huge amount of staff to deal with the absurd action of people. Thank you to those staff risking their own health for keeping grocery stores open.
The stuff missing just was strange. No pasta, but plenty of red sauce. Hot-dogs, but not a single source of bread or buns to pair with. Lettuce completely gone, but fruit & vegetables seemingly untouched. Beef and chicken completely gone, but fish remaining.
---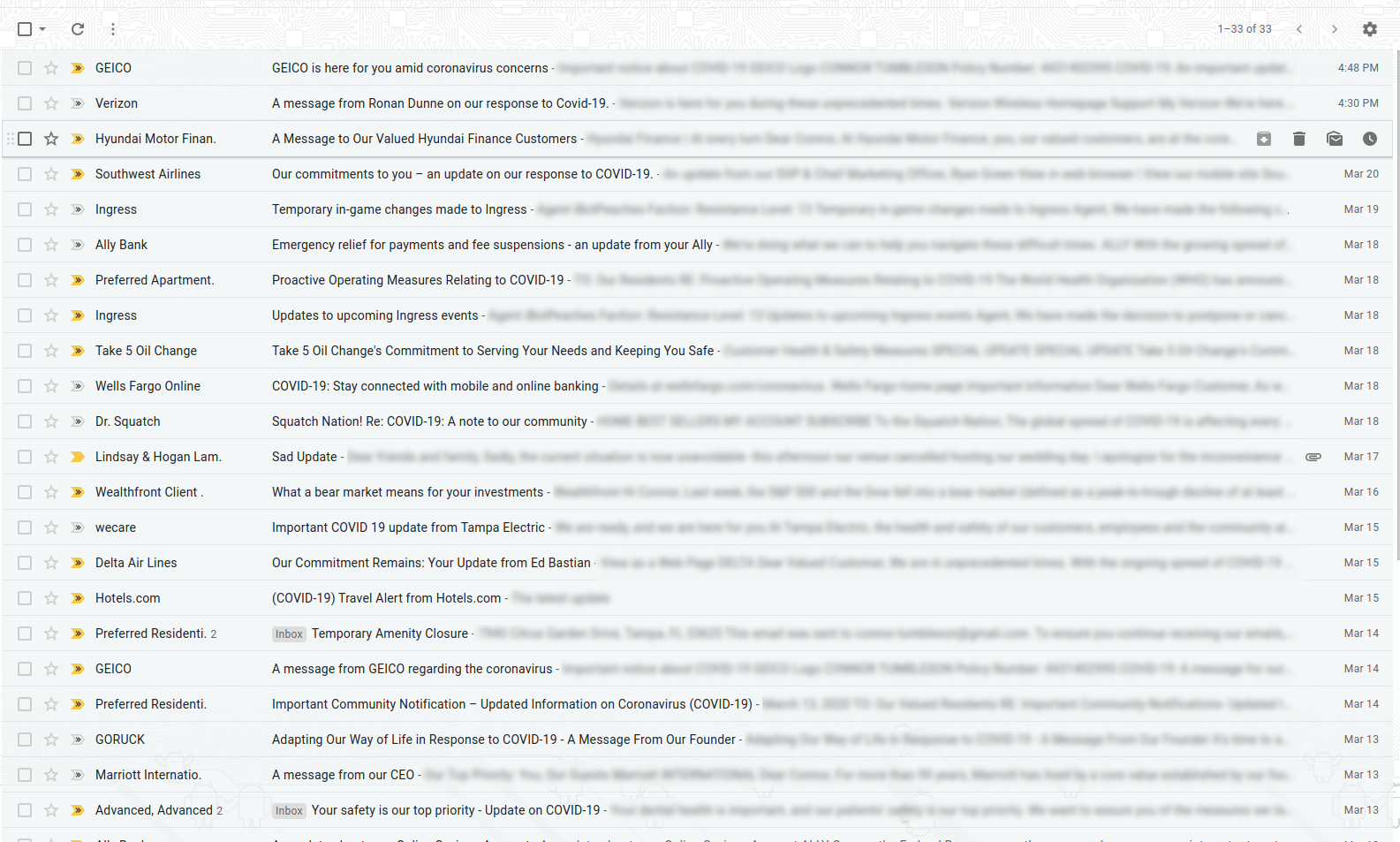 As every day continued, the amount of emails from businesses was insane. 90% of the emails were doing the right thing - delaying payments, offering help or even discounts during the difficult time. The emails won't stop, so I started dropping them into a folder to look back at this time.
I fear Florida is approaching a time where an executive order prevents any travel unless crucial. Whatever happens, I want to continue to blog about it, because this will be in the history books or wikis forever.