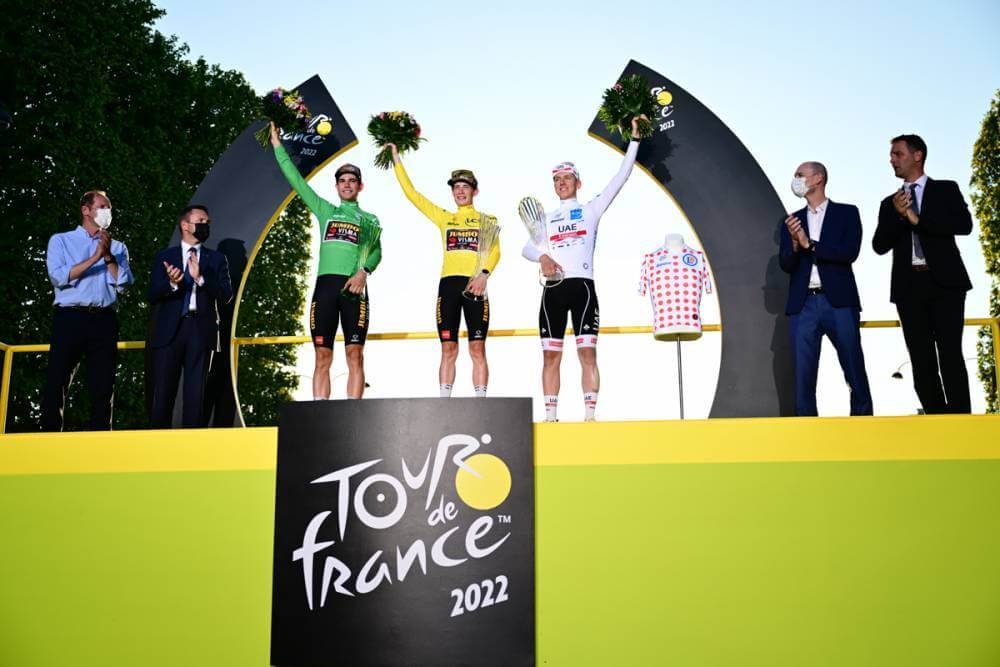 On July 24, 2022 the Tour de France ended again. This time the winner switching hands to Jonas Vingegaard of Jumbo-Visma instead of the previous winner Tadej Pogacar.
A lot of Twitter/Reddit folks were considering this tour the real challenge that Tadej would face. As the 2020 delayed COVID Tour had the contender Primoz Roglic unable to hold the yellow jersey losing it in the final time trial. We saw in 2021 when Primoz was injured - Jonas stepped up as the team general classification (GC) leader and almost won - holding 2nd place by only 5 minutes.
So the 2022 tour was going to start with some fire - Jonas, Tadej, Roglic and Geraint all looking like competitors to take home the win.
Tadej - 1st in 2021
Jonas - 2nd in 2021
Roglic - 2nd in 2020
Geriant - 2nd in 2019
This tour was also going to be another chance for Peter Sagan to recover and compete in the green jersey. However, we saw a completely different picture when it came to the points. Wout van Aert scored 480 points and destroyed that competition never losing the jersey. Names I was expecting to compete for that jersey sadly disappointed - never seeing Sagan or other sprinters get close to Wout.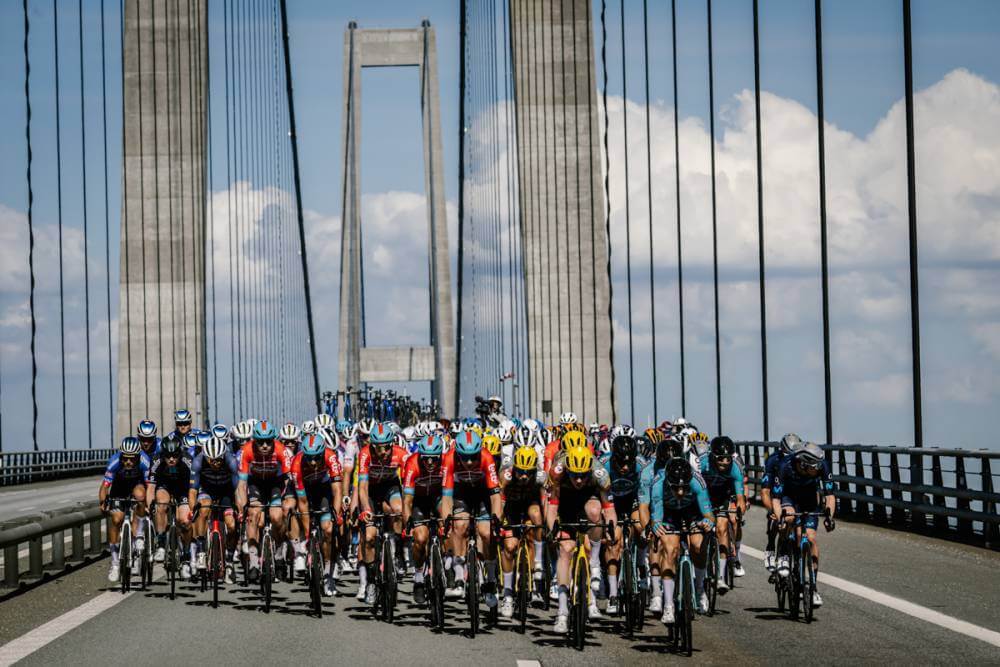 Stage 2 was in Denmark and featured a huge bridge, which was the first time I remember seeing a large bridge in recent memory. It also had a pretty huge crash with 1.9 miles to go, which invoked a special 3km rule. This allowed riders to have the time of the group they crashed with instead of losing crucial time for crashing at the high paced speed at the end of the race.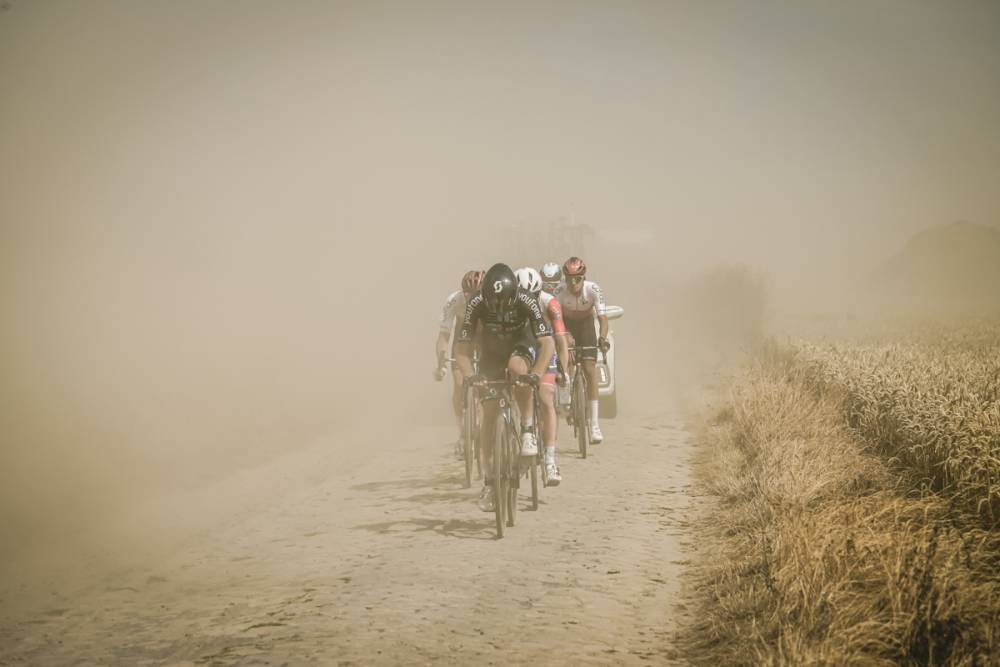 Stage 5 was such a unique stage with cobbles returning to the race - such a dusty and complex chunk of the race. Tons of crashes occurred, Roglic even crashed and dislocated his shoulder, but instead just popped it back into place and jumped back on the bike.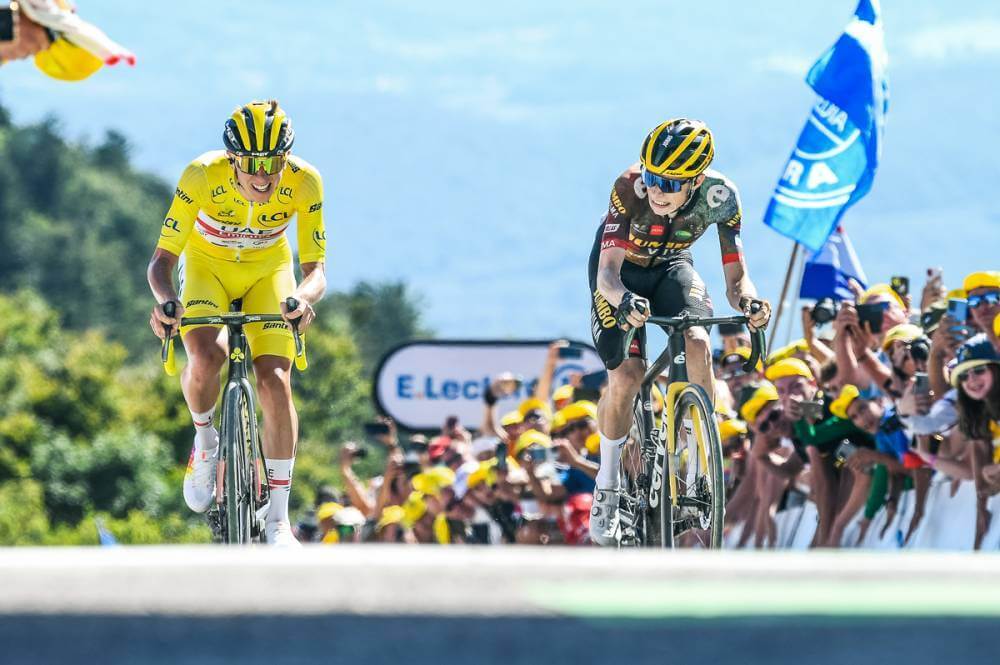 Stage 7 ended on gravel at an insane 24% incline and led to the most intense ending of a stage between the 1st and 2nd place rider that I can remember. It was a stage that proved that Tadej was still here to hold the jersey.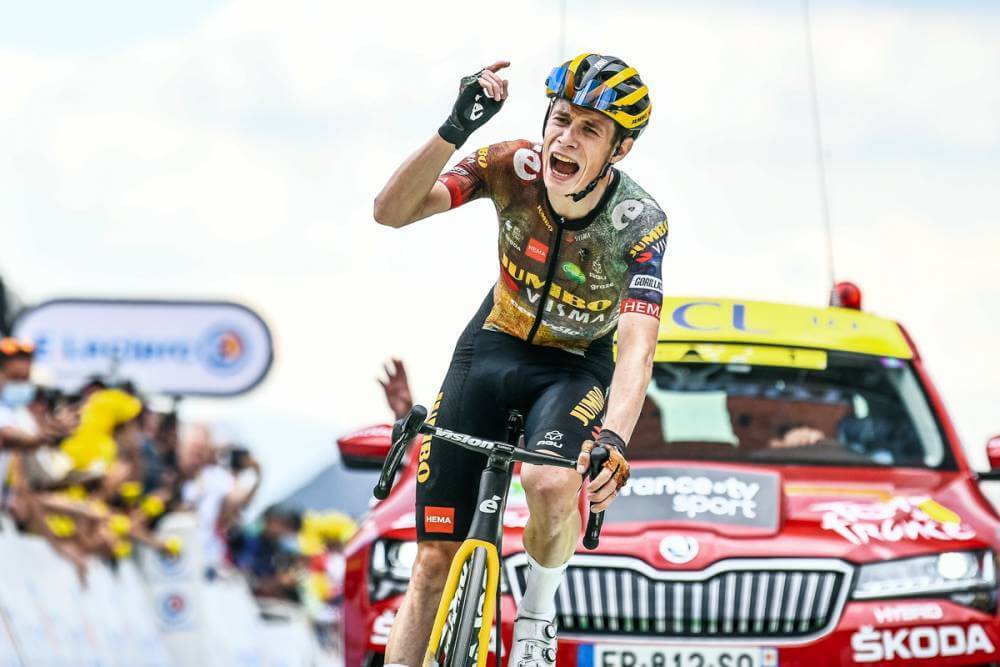 Stage 11 was intense with a calculated attack against the yellow jersey (Tadej) by Jumbo-Visma who continued to attack and isolate Tadej until he had no teammates remaining. This was the first stage we saw Tadej as only human who dropped 3 minutes to Jonas who then took the yellow jersey.
Stage 12 through 16 all saw Jonas continue to hold strong and answer any challenge given by the white jersey (Tadej). Tadej continued to be down by 2:22 stage after stage unable to catch up. Was losing 4 teammates on his team of UAE leading to this challenge? - probably didn't help, but Jumbo Visma lost 3 themselves.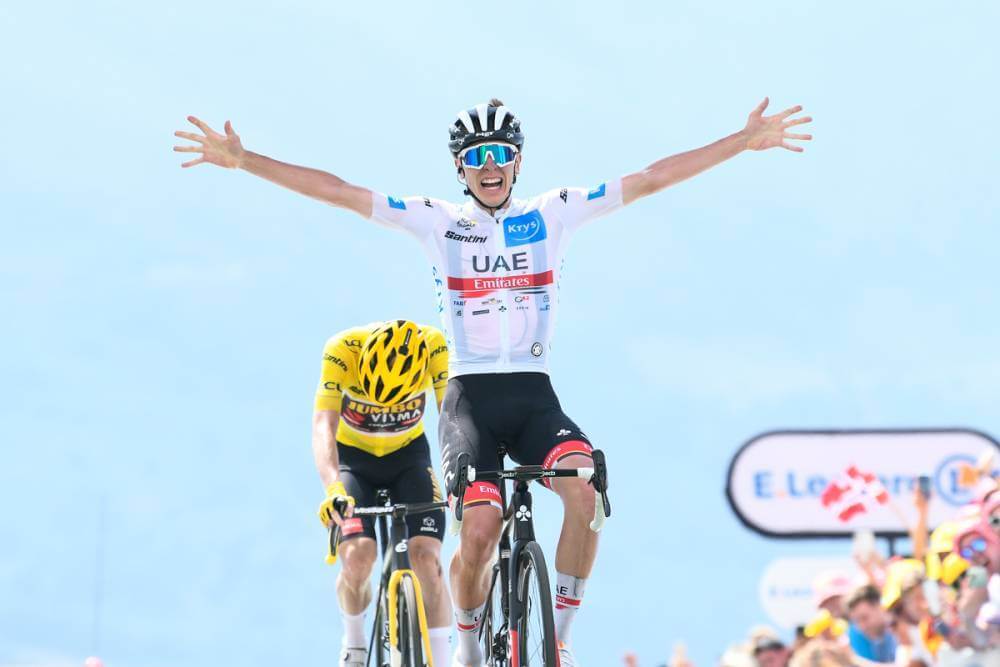 Stage 17 was the first stage we saw Tadej barely out pace Jonas gaining 4 seconds due to the time bonus for winning the stage. This was showing promise with only a few stages left.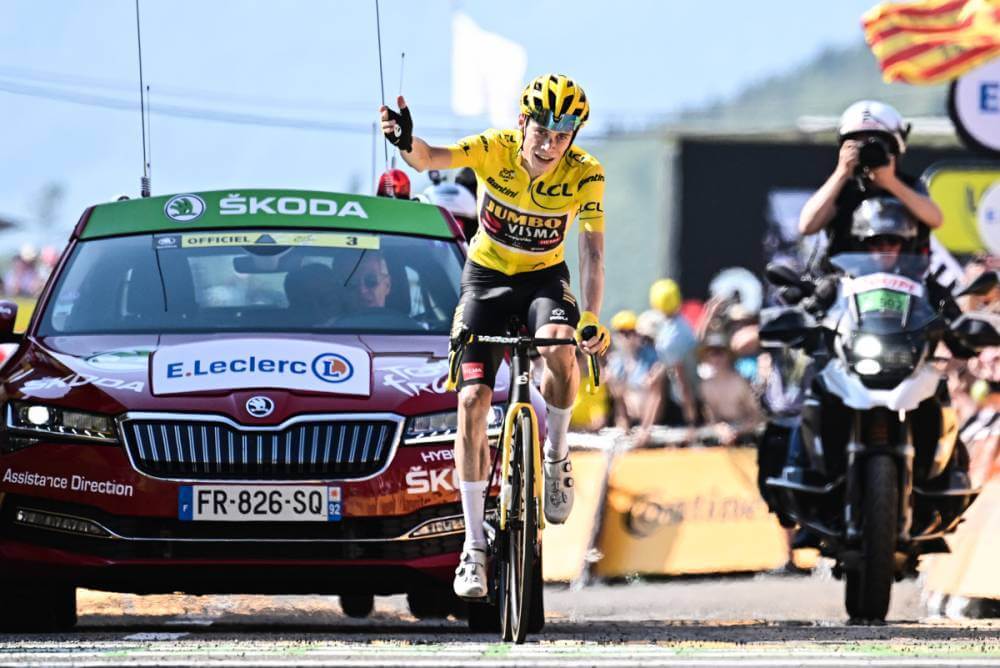 Stage 18 however crushed that belief when Jonas buried Tadej by another minute, with an extreme stage showing that it was man vs man with a few kilometers to go. With such an interesting show of sportsmanship when we saw Tadej crash and Jonas slow down until they got back together. I think Jonas knew that he could crush him in the final few kilometers and didn't want to win due to a rider crashing out.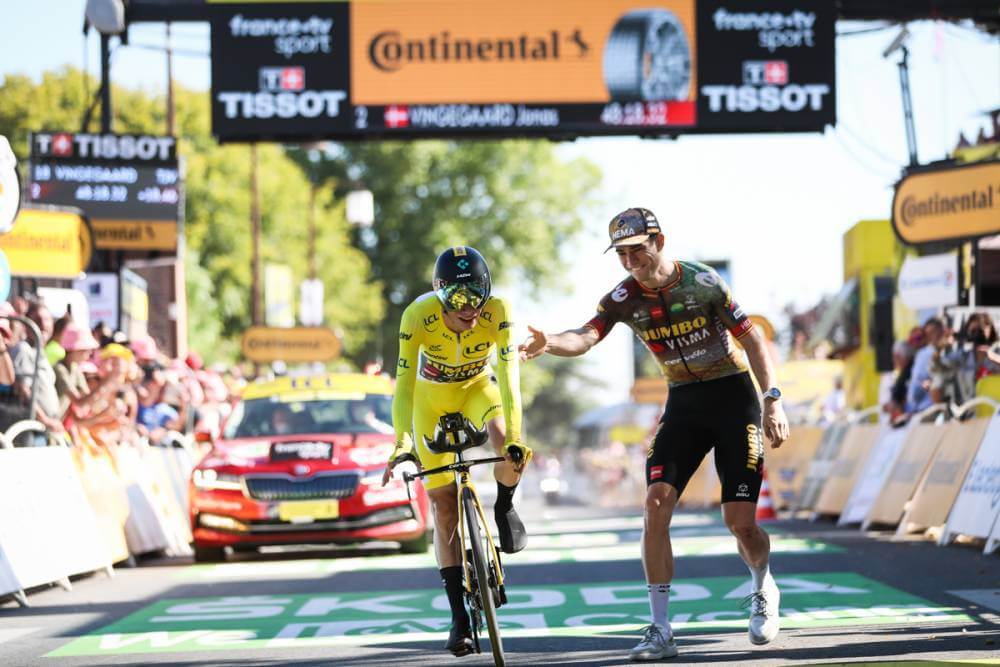 Stage 20 was another time trial and we saw Jonas further his lead by roughly 10 seconds in the general classification. Which solidified the placings as:
1st - Jonas
2nd - Tadej (+2' 43)
3rd - Geriant (+7' 22)
Wout finally got a time trial stage win after very closely losing it in stage 1. It looked like ever so briefly that the yellow jersey was going to win the time trial with a few minutes to go, but he slowed down and started smiling. So the teammate (Wout) above came out to greet the yellow jersey at the finish line.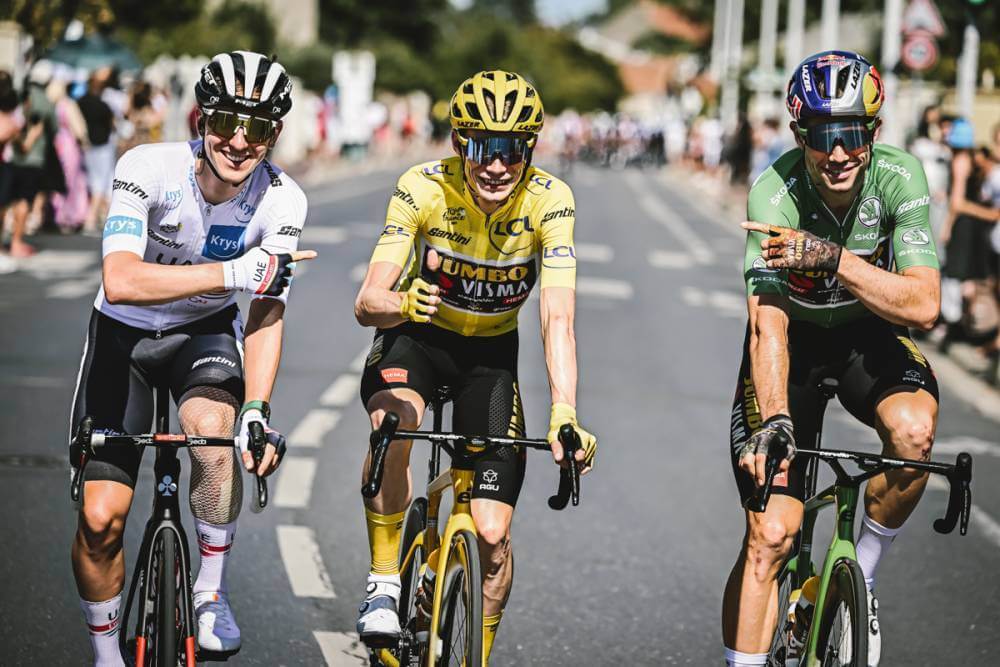 Stage 21 had a few funny events where the day started with yellow, green and white jerseys jumping out in an immediate sprint in the beginning. This is normally a stage that starts with 50km of slow pacing group movement, so this little fun the jersey's were having was a great show. Towards the very end with a few kilometers to go we saw the white jersey attack! Tadej was 3+ minutes down at this point so no possible way to catch up, but it kept the crowd on their toes.
The tour ended and a new yellow jersey was crowned: Jonas Vingegaard.
---
A very interesting tour this year and the competition continues to elevate. I think we will see teams build around Jonas and Tadej for the years to come for true contenders to battle it out.