Door to Door - Lumino Solar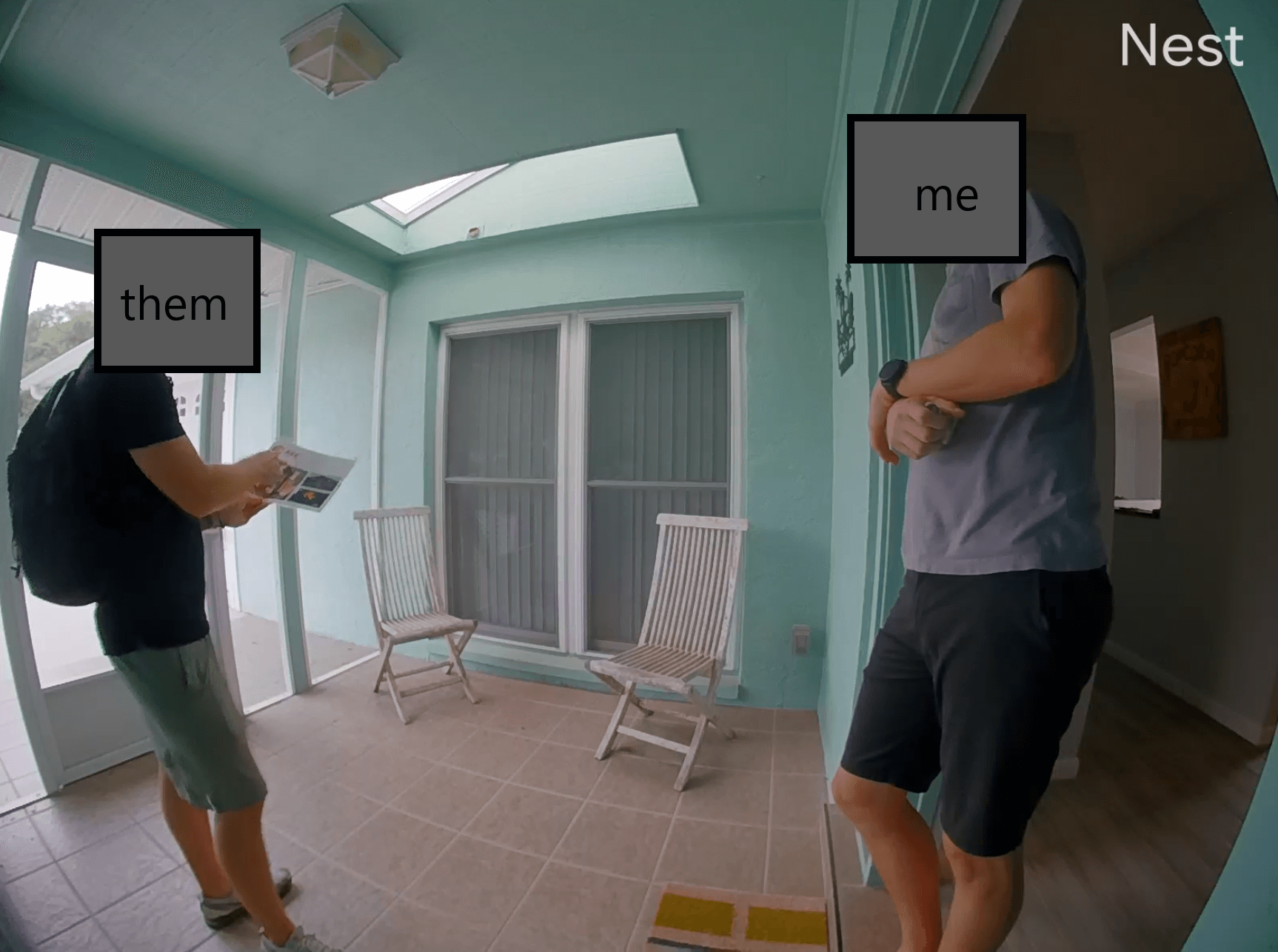 As I sit and enjoy dinner on a Friday night - I'm unaware my door is about to get a knock with an increasingly common technique - that I must blog about it.
So August 26, 2022 - I hear a knock and then an alert from my phone that means it spotted a person. This wasn't a doorbell and I should have ignored it, but the alert on my phone spotted a younger looking person with a backpack. I figured it was a neighbor or something so went to answer it.
This is the recollection of the events as my doorbell recorded it all.
---
Immediately the person mentioned they were working with TECO (My electric company) assigned to this street to announce a new Solar plan backed by government policy. At this point I already wanted to close the door and be done - since I'm not getting solar panels.
However, this guy was persistent and talked for at least 2 minutes of explaining everything solar to me. What I found as common points repeated frequently were:
Your home will gain equity.
You can get started for $0.
With the goal to get me to agree to a "free" assessment of the possibility to get solar panels installed on my home. So lets rip apart everything he said and get to bottom of this.
---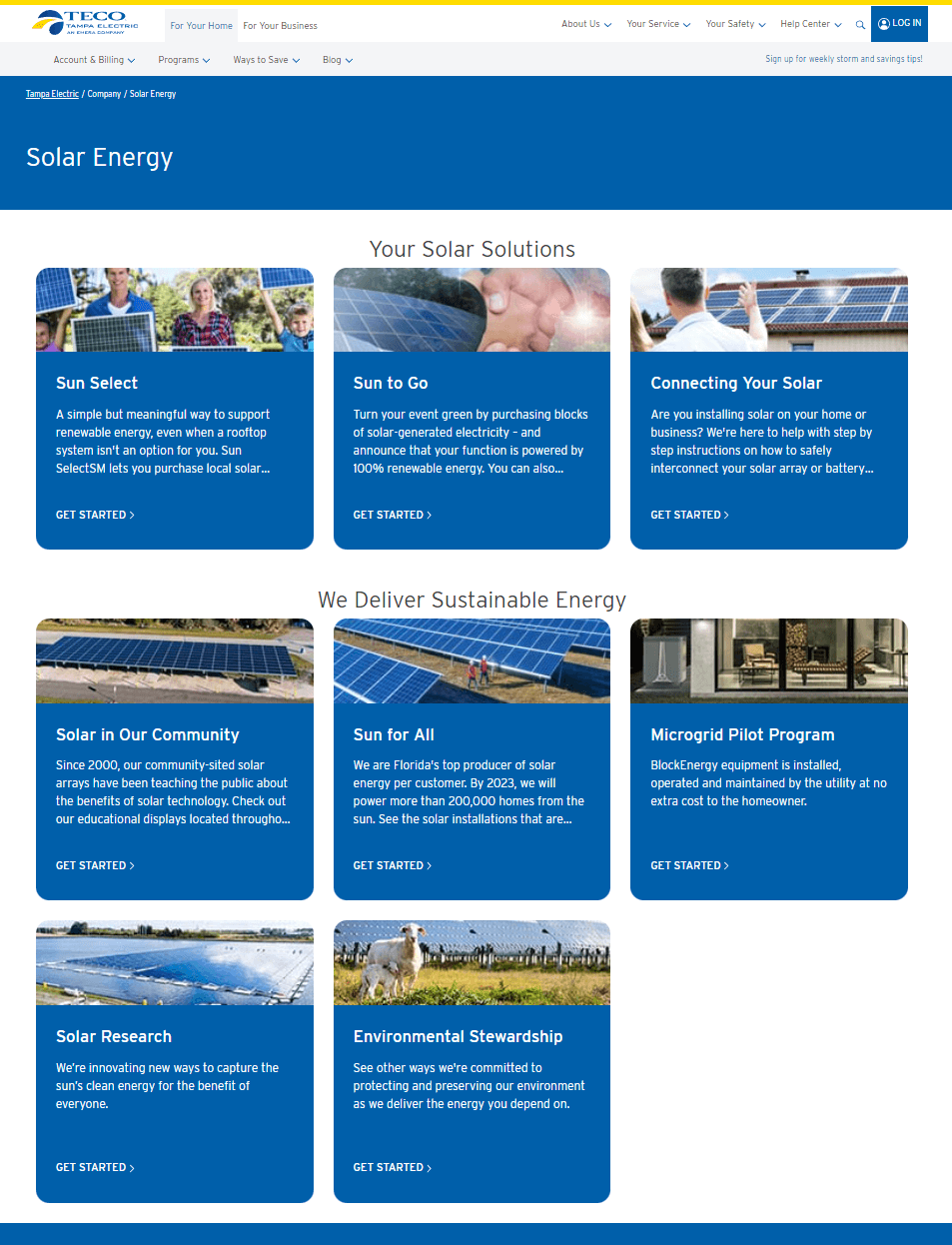 Claim: This is a new program offered by TECO
This is not true. TECO offers a portion of their website to explain everything solar and not a single option is an option to get panels installed with TECO's support. The closest they have is a list of contractors in good standing.
View a list of solar contractors in good standing with the state of Florida. In the license information form, select Construction Industry (License Category) and Certified Solar Contractor (License Type).
https://www.tampaelectric.com/company/solar-energy/connectingyoursolar/relatedlinks/
So I wanted to check that list and I could not find "Lumino" anywhere on it.
---
Claim: Your home will gain equity.
This is only partially true if funding is in your favor. Let's take the vision that Lumino wants you to have then talk about what happens normally.
The Perfect Vision
Spend no money on install, increase home by 6%.
Swap electric bill for solar bill (Repay for panels)
As electricity bill goes up further, solar stays constant for loan payment.
Pay it off over the next 10-25 years.
The Actual Vision
Spend no money on install, increase home by 6%.
Have an electric bill alongside solar bill until solar "goes live"
Have a final inspection with TECO, which depending on the quality of the install may fail repeatedly.
Continue paying for solar and electric bills until inspection done month after month.
Have a new $75,000~ loan on top of your home on a 20 year payment plan.
Struggle to sell place without clearing the lien on the panels or covering the loan.
Prevented from removing panels without paying for removal on top of clearing bill on the panels.
Never was I told that a UCC/lien was going to be placed on my home so when I went to sell it the buyers title company informs me I have to pay $75,954 to this solar loan company before I can close on my house You could have knocked me over with a feather So I reached out to the salesman who said well just get the buyer to take over the loan I told him the buyer was an investor and had no desire or intentions of taking over a $75,000 loan. So then he says, just take them with you. Well that's great BUT I still have to pay $75,954 to remove the UCC then another $12,000 to remove the panels then the cost to transport them and then pay to have them reinstalled on a new house!
https://www.solarreviews.com/installers/atlantic-key-energy-reviews
So what I believe is the goal here is to install panels as quick as possible (Maybe as soon as 10 days after you accept). Knowing they (The solar company) will get payments as soon as the panels are installed. They don't care if the inspections are delayed - they are getting money. They don't care about anything but recouping costs for the panels.
---
Claim: This is our old company name (AKE).
This is true.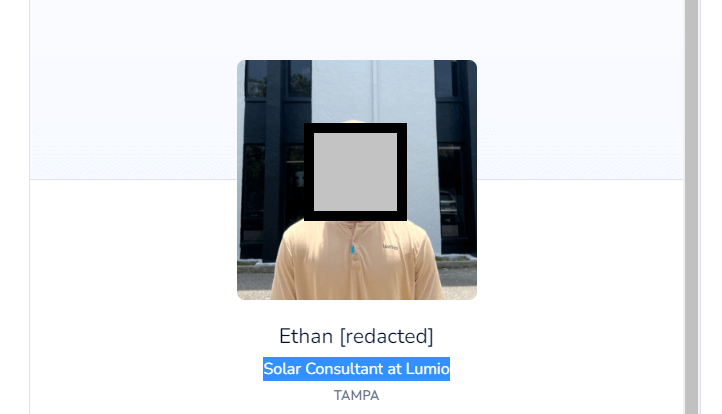 So I asked the guy for a business card and he said he only had one. So I mentioned I would just Google the company name I spotted on the paper of "AKE Solar". He mentioned that was the old company name and I should scan this QR code to get the new company which took me to the image above. From that I could obtain the new company name of "Lumino".
So I found a businesswire article.
Lumio is the result of combining five leading regional U.S. residential solar providers:
Atlantic Key Energy,
DECA
LIFT Energy,
Our World Energy, and
Smart Energy Today.
Each company leads their respective markets in customer satisfaction and time-to-install. In a period in which the solar industry's average install time is 60-90 days, Lumio's average install time – with high customer satisfaction – is less than 30 days. In some cases, it is less than 10 days.
What bothers me is this article claims each company leads their respective market, but I can't see how that can be true based on what I find online.
(AKE) C rating on BBB (revoked)
On 04/21/2022 this company's accreditation in BBB was revoked by BBB's Board of Directors due to engaging in activities reflecting poorly on the BBB or its members and failure to be responsive by addressing disputes forwarded by BBB quickly and in good faith.
two years in business.
This business is NOT BBB accredited.
one year in business.
(Lift Energy) C- rating on BBB
This business is NOT BBB accredited.
unknown time in business.
(Our World Energy) A+ rating on BBB
This business was accredited since 9/25/2018.
6 years in business.
(Smart Energy Today) A+ rating on BBB
This business was accredited since 8/2/2012.
15 years in business.
So while a few of the companies look reputable - a few do not. The company that used to service my area based on the materials shown to me was Atlantic Key Energy (AKE).
---
Claim: We are #1 installer in Tampa and #3 installer in USA.
Lumino is #1 installer in Florida (?)
I can't prove this, so leaning to false.
I researched every iteration of "top/best solar companies in Tampa/USA" and looked at least 20 sites and not one even listed Lumino.
---
Claim: The new SMART meter is a 2 way power send/receive.
SMART meter sends power (???)
This is false. The SMART meter just allows TECO to read your values by having them transmitted to them instead of an employee reading the meter on the house.
What is true here is you need a SMART meter if you want to use solar. That is so TECO can have control to remotely read/configure your power if you get solar. This is not what was described though in person as the way to send power back to the company is a variety of new interconnection pieces that must be verified.
---
Claim: This is at $0 cost to you and cheap due to government policy.
Solar will be $0 to you to install.
This is false and just misleading advertisement. Sure it's $0 for install, much like you can get a phone for free - but then you have monthly payments which was explained to me in the audio above. The goal for this company is to put solar panels on the roof as soon as possible. That means you are locked in for payments, including a possible lien on the panels.
However, what is the government vague policy that was mentioned? I believe the Solar Tax Credit which expires in 2023. In 2019 it was 30%, which since the cost of these loans might range from 50k to 90k may help decreasing your taxable amount. What I believe was being attempted to confuse me was saying the price would be 20-30% cheaper than normal.
That just simply isn't true - while it may be possible to get a rebate of a couple thousand and get some credit on my taxes. You are still left with a large loan over 15-25 years. These companies use this loan to their advantage, because the alternative of leasing solar panels is not allowed to reap the benefits of these tax credits. I found some reviews in BBB that boosts my claim that the tax discussion is meant to confuse you to think you are getting a better deal. However, the website makes it abundantly clear this is a credit. My guess is on paper its correct for compliance, but the sales technique voice to voice may not say it exactly right.
Their representative claimed that I would receive $18,000 tax rebate from federal government when I file my tax return for this year. There is no tax rebate for solar panels; only a tax credit.
https://www.bbb.org/us/tx/arlington/profile/solar-screens/deca-living-0825-1000199806/complaints
There is something wrong with our solar panels and no one can tell us why. We have $70k worth of solar panels on our roof and we only received 94kwh for a $12.82 credit on our **** electric
https://www.bbb.org/us/ut/lehi/profile/solar-energy-contractors/lumio-1166-90028215/customer-reviews
---
It's clear I believe this company just wants to put panels on as many homes as possible. They will get money from the instant the panels are installed and can win if the sun is up or down - they get money either way.
I don't think anyone should trust any company that comes to you to entice you. There may be an exception to that rule like girl scout cookies, but otherwise you are best to find a local supported contractor that your local power company supports.
I will not be using Lumino and I'm happy I got an idea for a blog post after a random employee to my door.