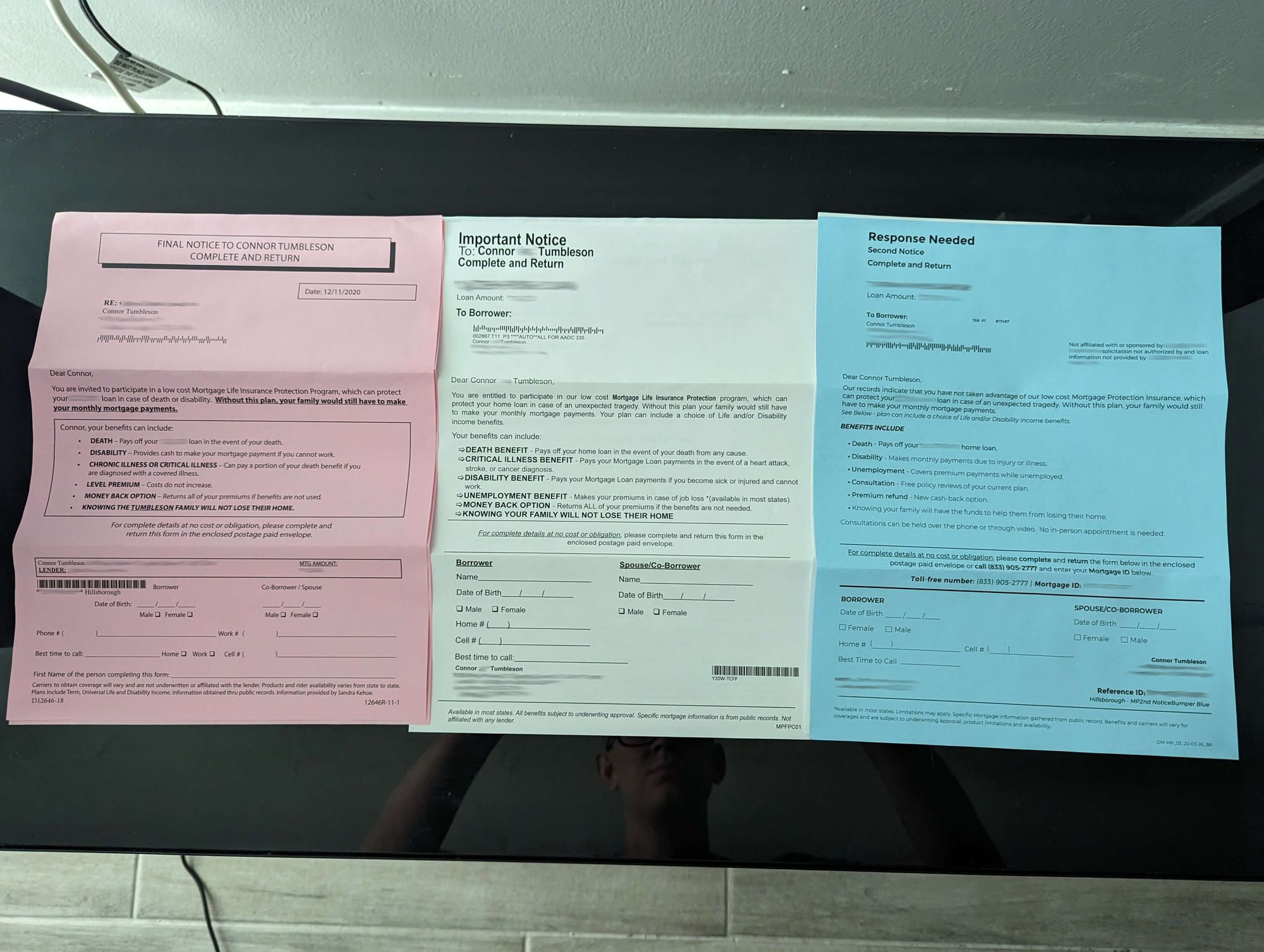 After obtaining my first mortgage the amount of sketchy insurance letters I got in the mail were unreal. I only have 10 in front of me of the ones I collected, but it easily had to be at least 50.
All of these letters have the same type of structure, but not a single duplicated phone number or P.O box.
The letters start with some form of:
Our records indicate that you have not taken advantage of...
You are invited to participate in a low cost...
You are entitled to participate in our low cost...
Which then proceed to list the exact amount of your mortgage, which is easily obtainable from public record and attempt to convince you that you need Mortgage Protection Life Insurance.
If we take a single one of the letters - the exact text is:
You are entitled to participate in our low cost Mortgage Protection Life Insurance program, which can protect your $xxx,xxx loan in case of an unexpected tragedy. Without this plan your family would still have to make your monthly mortgage payments.
See Below - plan can include choice of Life and/or Disability income benefits.
Connor Tumbleson, your benefits can include:

Death Benefit
Pays off your $xxx,xxx loan in the event of your death from accidental or natural causes.

Disability
Pays your Mortgage Loan payments if you become sick or injured and cannot work.

Unemployment
Make your premiums in case of job loss* (available in most states)

Money Back Option
Return your premiums if the benefits are not used by the end of the mortgage term

Knowing your family will have the funds to help them from losing their home.

Consultations can be held over the phone or through video. No in-person appointment is required.
Scattered throughout the letter in tiny text is:
Not affiliated with or sponsored by XXX Loans.
Solicitation not authorized by and loan information not provided by XXX Loans
Specific Mortgage information gathered from public record.
Benefits and carriers will vary and subject to underwriting approval.
So you can tell from this letter that this is not official, but an attempt to get me (the homeowner) to sign up for some insurance.
Lets take a look at what they don't tell you when it comes to the actuality of Mortgage Life Insurance.
They explicitly list "natural causes" as an allowed death benefit - which could entirely be a possibility, but most insurance policies don't actually list natural causes as a valid death benefit.
They list "disability" under the clause that if you cannot work - this can pay your mortgage. This in actuality has to proven to an extreme that you cannot work to enact this benefit.
This goes on and on in terms of exaggerated benefits without telling the true story. So I wanted to dig into the companies behind this, which is not made easy.
I'd imagine for a normal business exchange to have a reachable business number or website. So out of the ten letters in front of me here is the break down of contact information:
0/10 - Website Links
2/10 - Phone Numbers
10/10 - Return this form with enclosed paid envelope.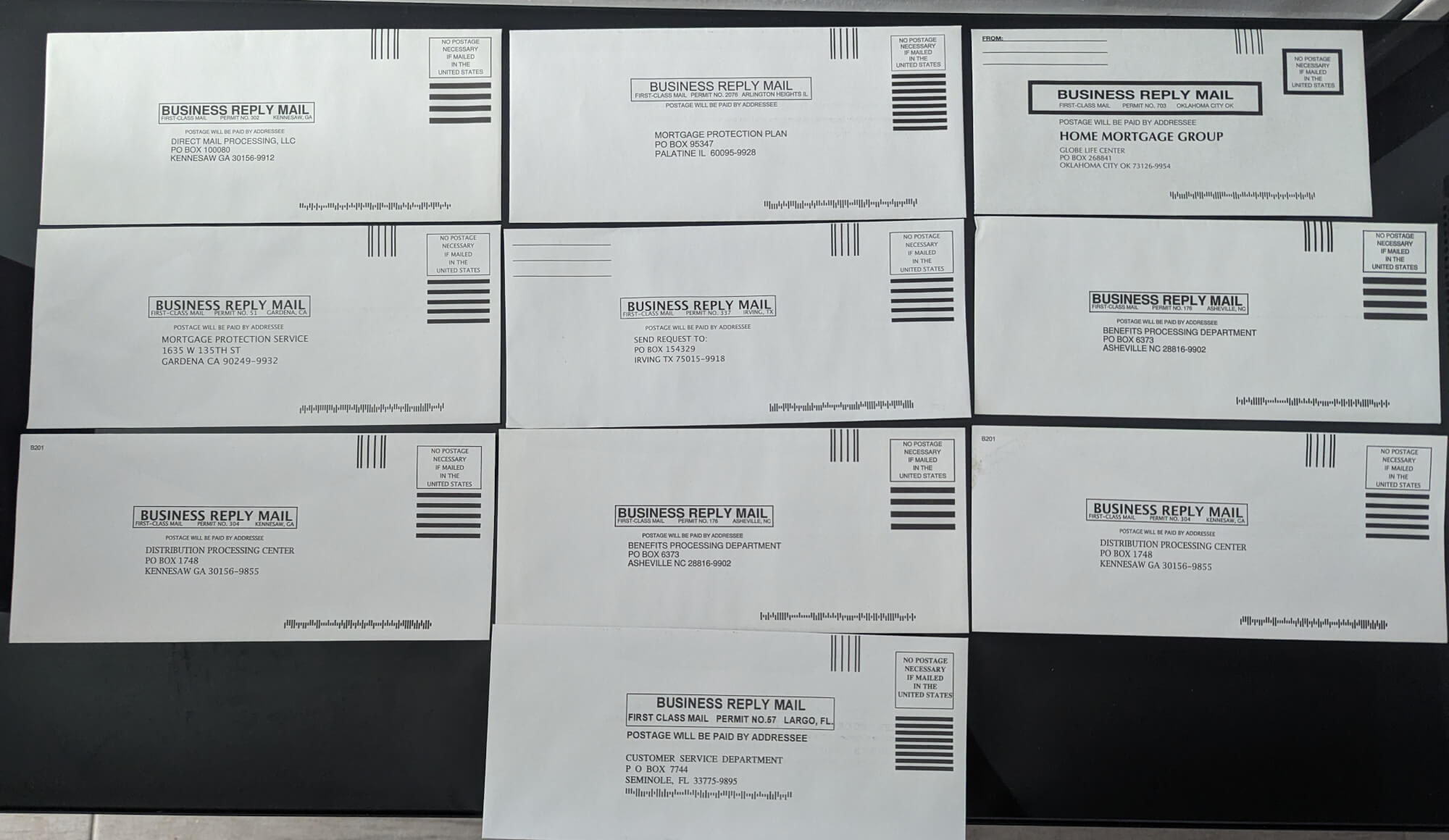 So this will be tough, we only have 2 phone numbers and a mess of P.O boxes to research. For Googlers, the numbers/addresses below
(833) 954-0664
(833) 905-2777
PO Box 95347, Palatine IL 60095
PO Box 268841, Oklahoma City OK 73126
PO Box 100080, Kennesaw GA 30156
PO Box 6373, Asheville NC 28816 (2x)
PO Box 154329, Irving TX 75015
PO Box 1748, Kennesaw GA 30156 (2x)
PO Box 7744, Seminole FL 33775
1635 W 135th St, Gardena CA 90249
So we got lucky here and have an address and a few duplicates so lets do some research and see if we can find any companies behind this.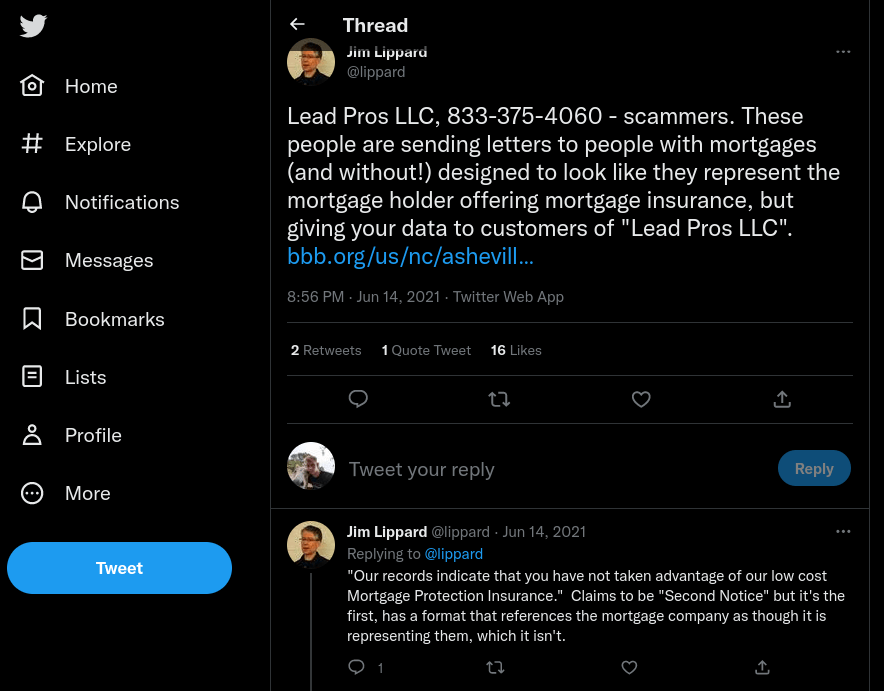 A quick Google search and it appears someone named Jim Lippard has done the research for one of these addresses already and discovered Lead Pros LLC behind it.
The Better Business Bureau has dropped a big F on this business and the comment section mimics my experience.
Monsters who prey on old people. Everything's marked final notice and it's just insurance scam. (Holly W)
Mortgage insurance scam. I get more mail from them than from every other spammer combined. (Autumn S)
You can just pop these addresses into Google one at a time and end up on another BBB page.
PO Box 95347 - 1 star (15 reviews), F rating on BBB (Mortgage Protection Plan).
PO Box 268841 - 1.17 stars (48 reviews), A+ rating on BBB (Globe Life and Accident Insurance Company).
PO Box 100080 - ? (Direct Mail Processing LLC, Ref #1)
PO Box 6373 - 1 star (13 reviews), F rating on BBB (Lead Pros LLC)
PO Box 154329 - ?
PO Box 1748 - 1.14 stars (22 reviews), B rating on BBB. (Distribution Processing Center, LLC)
PO Box 7744 - 1.11 stars (35 reviews), not rated on BBB. (Mortgage Protection Services)
So I don't need to spend any more time researching this. The intent is clear:
Crawl public record looking for new mortgages.
Attempt to convince the homeowners with red letters, bolded text and short timeline.
Hide business information behind direct mailers so homeowner has to reach out via mail.
Business passes you on to less than preferred insurance policy that will net them monetary gains on each premium paid.
So I thought because I had 10 return letters in front of me to contact USPS and see if they can reverse this reply letter to the real business behind it. I wanted to double check the above research and see if I could find a common company behind this all. I figured this would work because I saw the requirements for being able to send BRM mail.
You must have a valid Business Reply Mail permit before you can mail. You may apply for a permit at any time by filling out PS Form 3615, Mailing Permit Application and Customer Profile.
Note: PS Form 3615 is a simple form requiring you to know the company name, address where the mail will be returned, contact person, and telephone number.
However, after getting passed from party to party at USPS on the phone - no one would entertain my request or even know what I was talking about. I debated just walking to my local USPS for further research, but I also realized I was walking a line that was more meant for an investigative researcher.
Unrelated, businesses will pay for "Business Reply Mail" and they pay only when the letter is sent back. So 10 return mails packed with empty note cards may have just been deposited into a mail box. The least I can do is cost the businesses money behind this for sending upwards of 50 letters to my house.