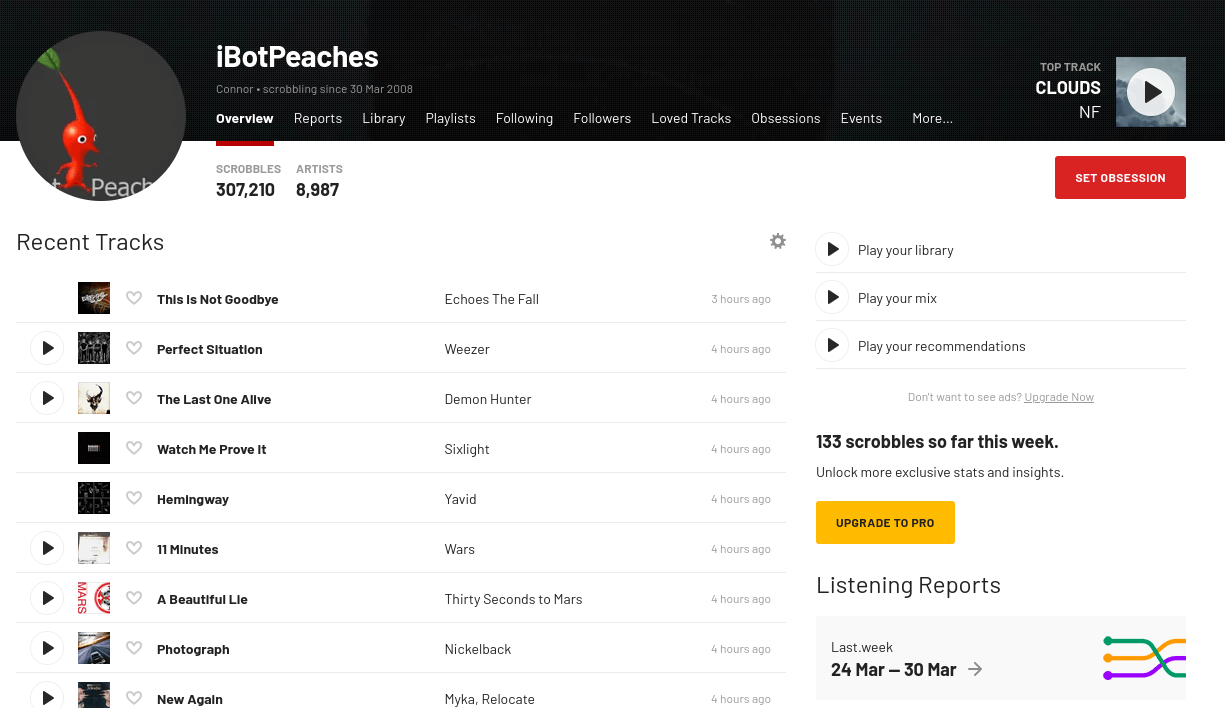 While I don't remember why - a long time ago in 2008 I signed up for last.fm and linked my Spotify account to it. This would then record every song I played for the past 14~ years. Someone at work recently mentioned last.fm and my account was still surprisingly active. With this new huge collection of analytics - I wanted to look at the past 10 years and figure out what my most played songs were in each year.
---
2013
I Came to Party (Deuce) - 245 plays
Let's Get it Crackln' (Deuce) - 188 plays
America (Deuce) - 163 plays
I don't remember much about this time period anymore, but its clear I was on a real Deuce/Hollywood Undead obsession. I remember learning how the lead singer on Hollywood Undead left and started his own band named Deuce.
The lyrics and songs were way more vulgar than what Hollywood Undead ended up releasing post separation, but I enjoyed the old Hollywood Undead vibe which I instantly remembered from the Deuce album.
So I played a lot of Deuce, but if we look at today - its near never. The songs don't really appeal to me anymore, but funny enough the new Hollywood Undead does.
2014
Am I A Psycho (Tech N9ne) - 162 plays
Bad Moon Rising (Mourning Ritual) - 117 plays
Seeya (deadmau5) - 114 plays
This year reminds me really leveraging random songs that Spotify recommend for me. Also that I was seriously addicted to watching the TV show - "The Following" which heavily used Bad Moon Rising in its soundtrack.
2015
Usual Suspects (Hollywood Undead) - 67 plays
Day of the Dead (Hollywood Undead) - 63 plays
Till It's Gone (Yelawolf) - 58 plays
This looks like that Hollywood Undead obsession came back, but I remember that it was because a new album had dropped. Spotify continued to get smarter and reminded me that I used to listen to a lot of Hollywood Undead, so it recommended the new album to me.
So of course - I found a few songs in that album I liked and played it a ton. However, you'll notice my top song play didn't even break 100. I attribute this to failing to graduate in 4 years like most of my peers. Since I failed two engineering classes - I had to stay an extra semester in order to graduate.
This mean my normal behavior in 2015 was different than most and it was all focus, no fun which led to a decrease of music consumption.
2016
Calm Down (G-Eazy) - 189 plays
Me, Myself & I (G-Eazy) - 182 plays
Order More (G-Eazy) - 176 plays
I believe I stumbled upon G-Eazy on my nights to the bars towards the end of my last semester in school. The beats and songs were catchy and it filled that bit of rap I enjoy listening to. I get into this behavior of just looping an artist until I'm burnt out. So based on the top ten of 2016 - I surely just listened to G-Eazy on repeat until I was tired of it.
2017
Tried to Be Nice (Witt Lowry) - 108 plays
Numb (Witt Lowry) - 99 plays
Silicone Kingdom (Witt Lowry) - 99 plays
This was an interesting year with discovering Witt Lowry who I believe was just a far more explicit sounding Eminem. Based once again on the ten this became the same idea of 2016 - play an artist till death until burnt out.
2018
Not Alike (Eminem) - 56 plays
Fall (Eminem) - 51 plays
Kamikaze (Eminem) - 49 plays
A very small sampling of music listening this year and I remember why. My old Hyundai port stopped working that I used to plug my phone into my car. So my only option for music listening was the radio. However, when I did have Spotify the new Eminem album Kamikaze took over my top ten.
This album felt like old Eminem and had some good tracks in it.
2019
You're Going Down (Sick Puppies) - 64 plays
Undead (Hollywood Undead) - 62 plays
White Rabbit (Egypt Central) - 57 plays
I can tell this top ten is falling into the trap of "Discover Weekly" on Spotify. From getting burnt out of listening to artists or albums non stop, this method of having Spotify give me a playlist weekly of songs it would think I would enjoy was great. It would commonly bring up old songs and new songs and I'd always find a few to add into my liked set.
2020
Cruel Intentions (Delacey) - 97 plays
Lonely Gun (CYN) - 63 plays
Undead (Hollywood Undead) - 58 plays
Another year - another year of Spotify's automatic playlists given to me. I can tell I watched Suicide Squad and pulled some songs from that based on the top ten. However, nothing much to add here - I don't remember anything specific except the start of a pandemic.
2021
30 (Badflower) - 107 plays
Play with Fire (Sam Tinnesz) - 86 plays
Anthem for the Year 2000 (Silverchair) - 86 plays
Another year - same story. I just listen to what Spotify gives me and once I find a song in the weekly collection I like - I save it and then overplay it until I'm exhausted from that song.
2022
Lights and Sound (Yellowcard) - 72 plays
Uptown (Drake) - 65 plays
You're Going Down (Sick Puppies) - 62 plays
This year I can tell I started using the Spotify playlist called "Your Time Capsule", which found all my highly played songs in past decade. So for sure a blast from the past where I just listened to tons of songs that I overplayed back in the day.
2023
When I Grow Up (NF) - 38 plays
HOPE (NF) - 36 plays
The Search (NF) - 36 plays
Finally, we are still in 2023 but I've been obsessed with listening to NF. The lyrics are great and extremely easy to understand with a dedication to putting out great albums often.
---
So if we take my top ten artists of all time - we get:
Hollywood Undead - 9,837 plays
Linkin Park - 9,678 plays
Eminem - 6,380 plays
G-Eazy - 5,020 plays
The White Panda - 3,096 plays
NF - 2,901 plays
Drake - 2,594 plays
Yelawolf - 2,287 plays
Witt Lowry - 2,142 plays
Deuce - 2,104 plays
I don't even know how to describe that collection of artists, but I'm glad I have the analytics to do further research on this.