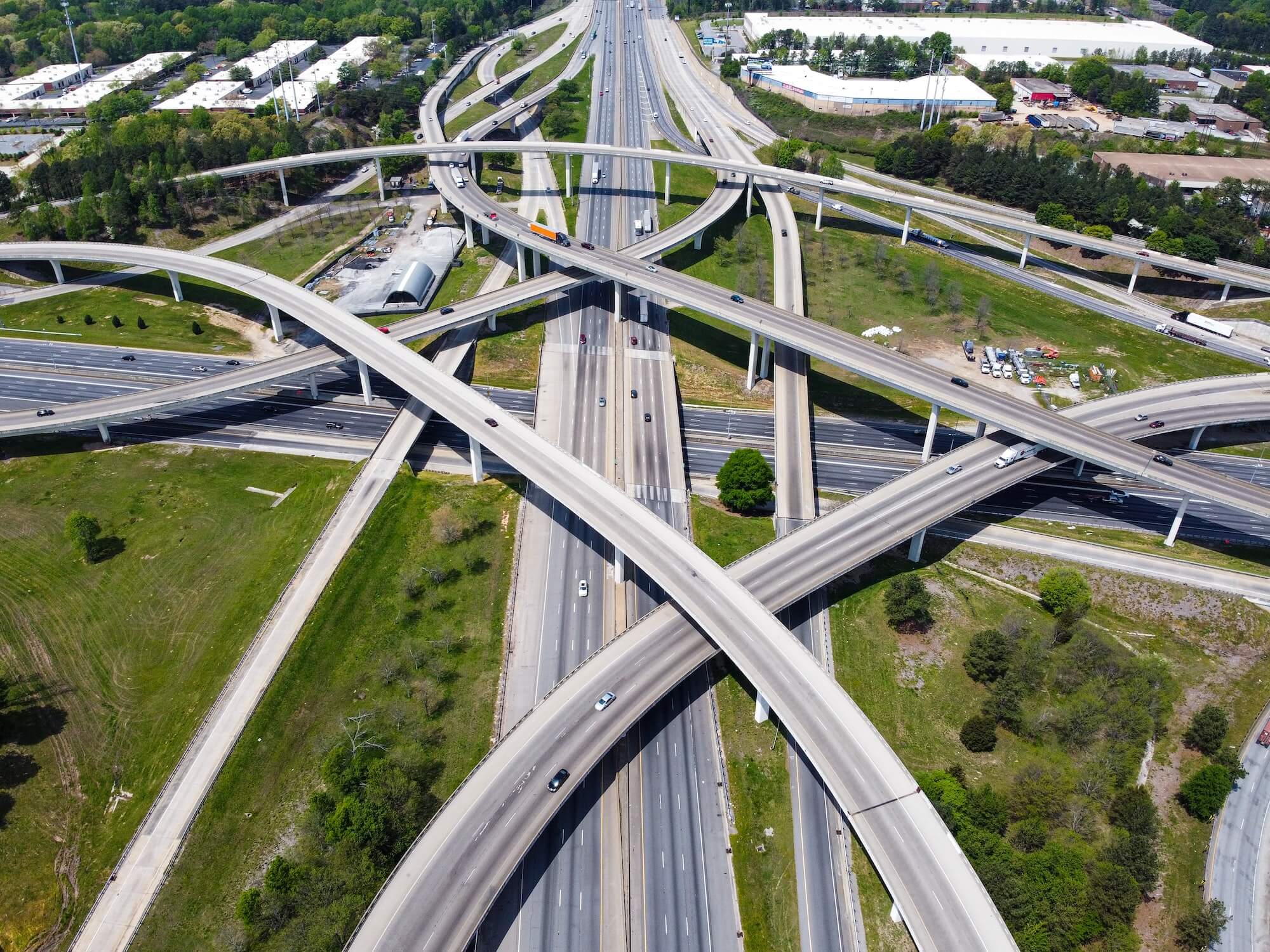 The clock struck 4am and it was another 3 day weekend of travel beginning - a short drive and I was back at the airport. Had been awhile since I flew Southwest and I was reminded sadly on just how dumb some people are. Hearing that A1-30 and A30-60 should line up in the respective two lines I was surprised how many people did it completely wrong. When someone at A44 tried to go in the first 15 people - the staff member pulled them aside to board at the right time. The real kicker though was a B33 person trying to board at the end of A1-30 line. Granted this could have been a simple mistake of A vs B - it just was interesting to see how many times people just couldn't follow basic instructions.
The flight was short and a bit bumpy towards the end, but then we arrived in Atlanta in an enormous airport. As I attempted to find the entrance to the Marta train network - I got lost. I kept following signs but then when I got to the entrance it said "North entrance closed - please use south", so I turned around and walked to the other end of the hallway. This time I was walking back into the security lines and lost.
Quick conversation with someone and I figured out where I needed to go and finally found the train to take me into downtown. This train went from empty to nearly fully packed by the time we hit my exit (Peachtree), but then I was finally there in downtown Atlanta at 8am on a Friday.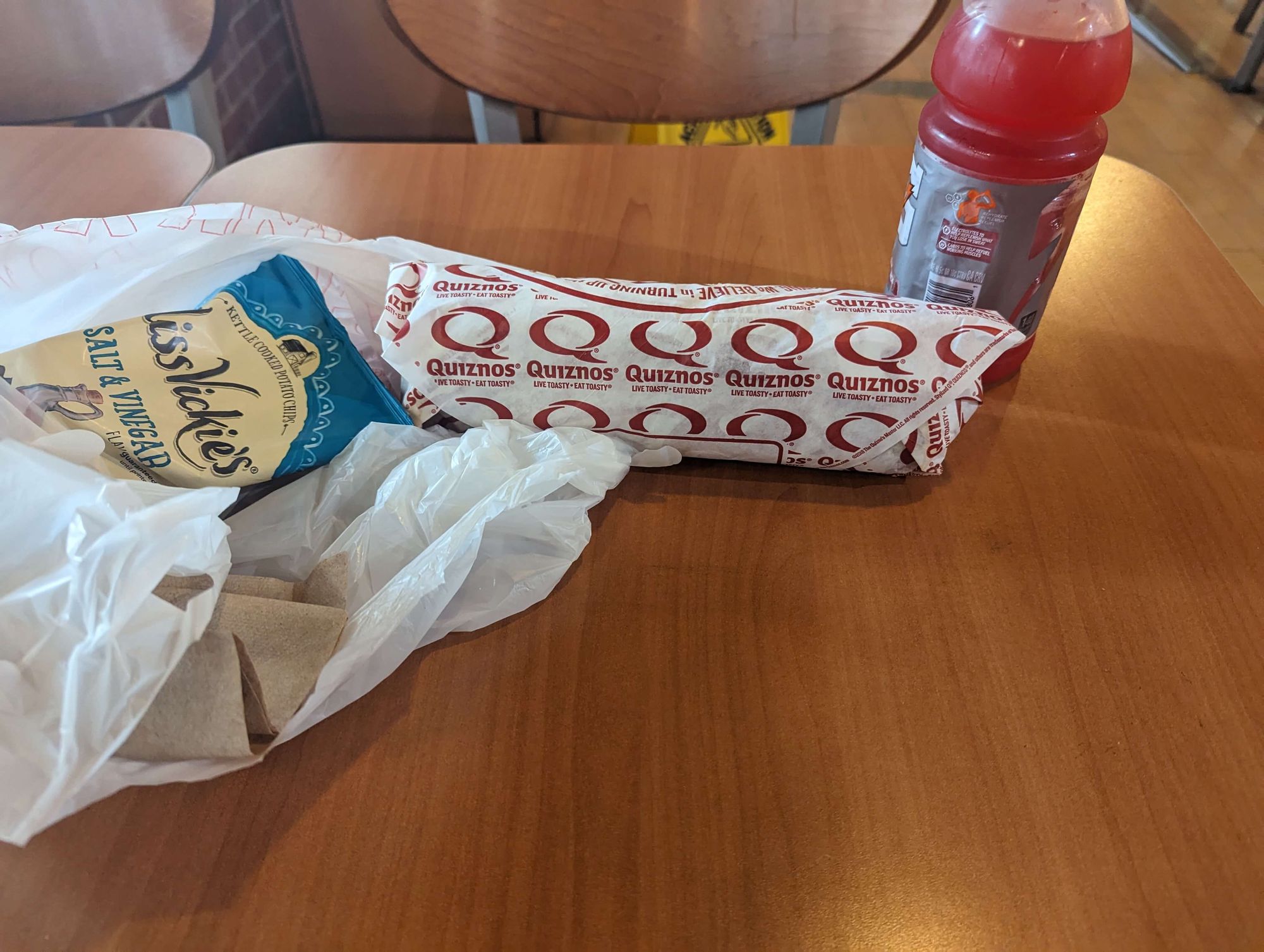 My hotel was packed and unable to let me check-in until more closer to check-in time, so I dropped my bags and went out for some breakfast. I saw a Quiznos and had a flashback to my college years in Arkansas eating this basically weekly. So I had to try it and it wasn't as good as I remembered, but still was a wonderful experience getting to overload your sandwich with more pickles and red wine vinegar from the "extras" station.
I started exploring the city and walked towards Centennial Park which housed the 1996 Summer Olympics. This park was full of AstroTurf and felt like a sweet park if the weather was a bit hotter, but the cool temperatures, rough wind and sprinkling rain made it a bit uncomfortable.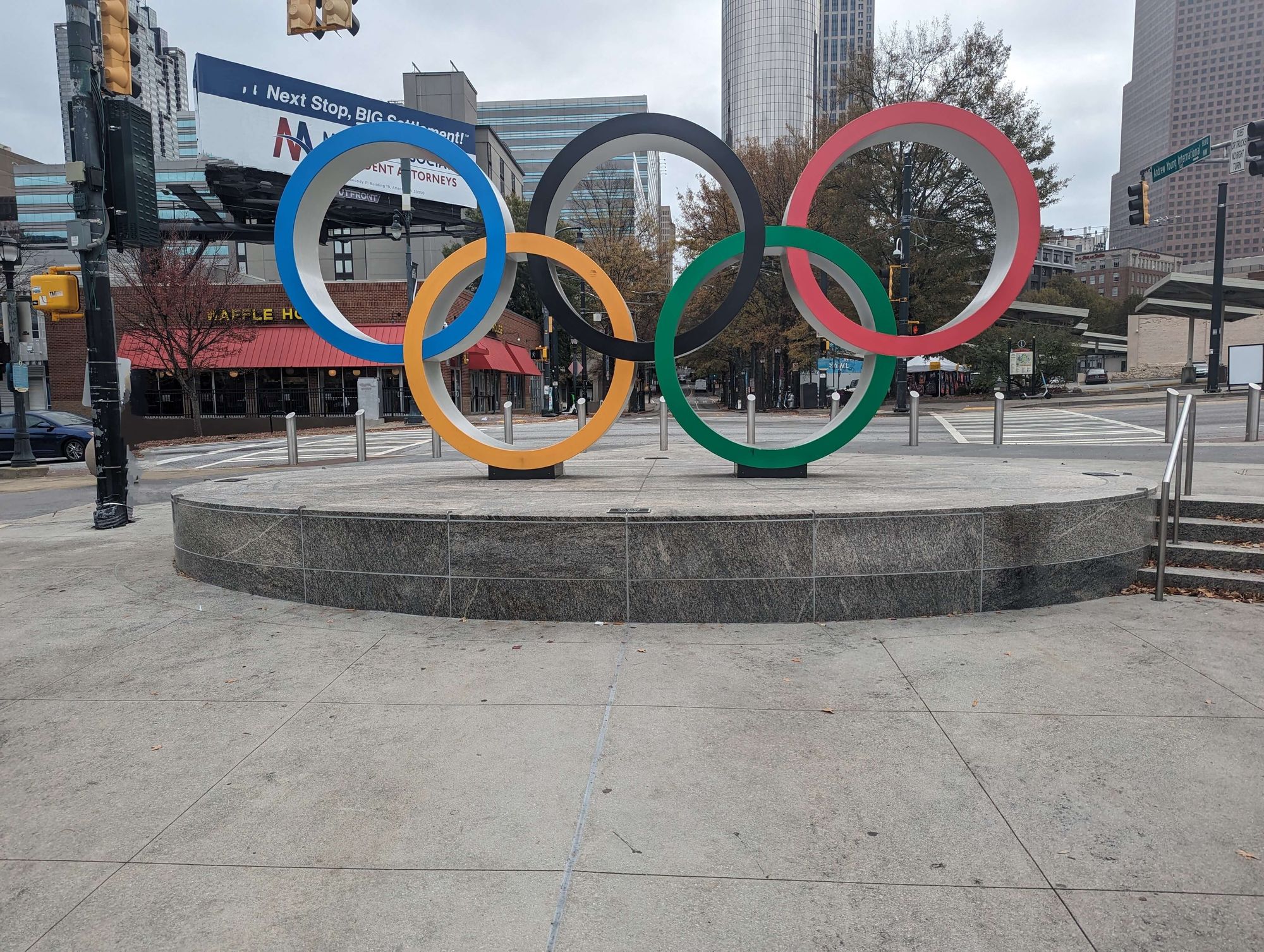 However, that didn't deter the religious pop-up tents which were on every corner of the park or every corner of the street. Some pure dedication for those folks even if I didn't agree with their method of bugging random people exploring a city.
Now I'd only killed an hour of time exploring and it wasn't even lunch time yet. So I kept wandering until I stumbled upon the entrance of the Atlanta Aquarium. A quick check on tickets and price and I had an 11:30am ticket to go. Going on a Friday afternoon was probably a mistake - there had to have been no less than 1,000 kids roaming around.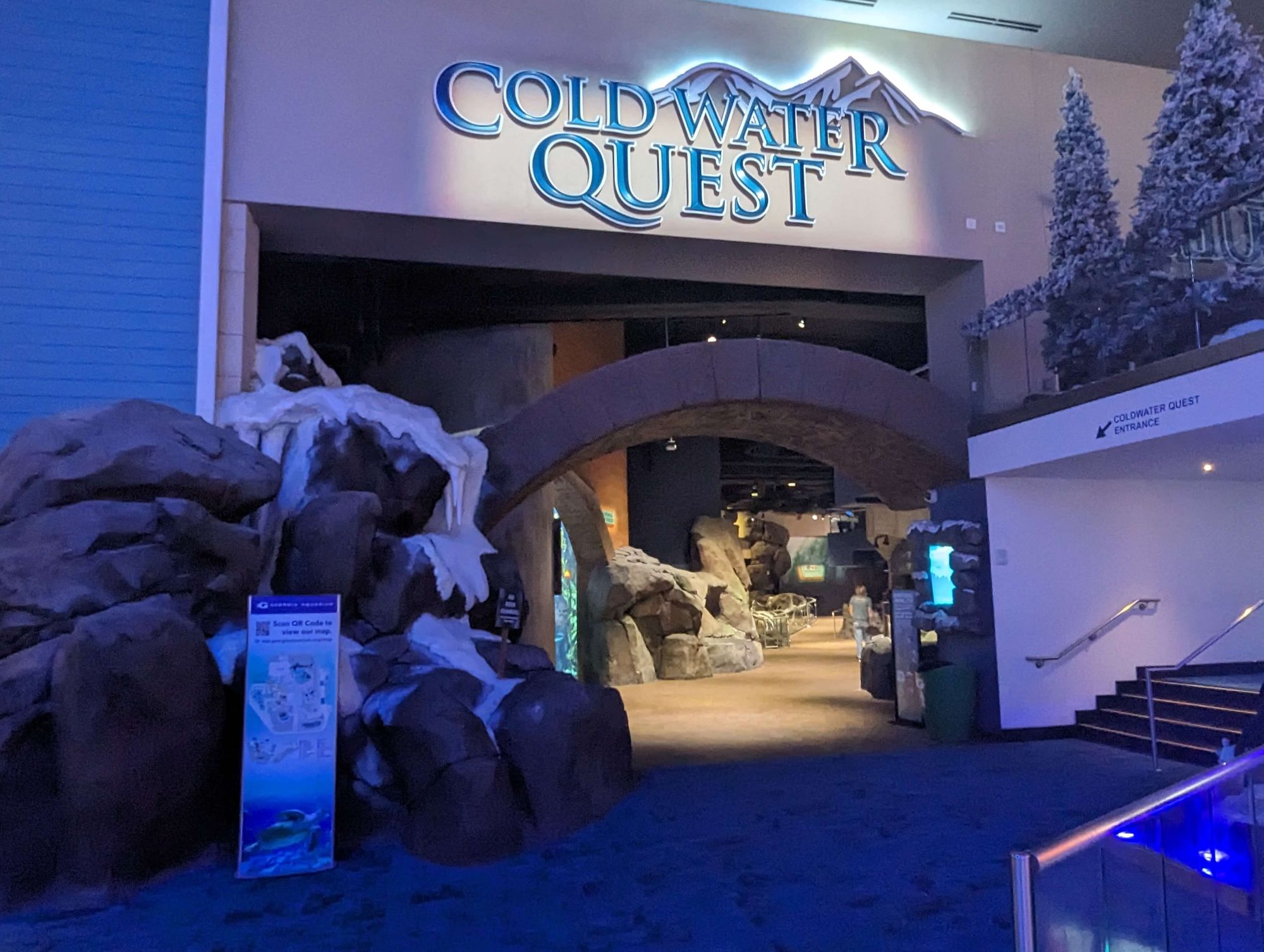 These were groups of like 20-30 kids a piece with some poor adult attempting to rally them together and organize them among 100 adults doing the same thing. This meant as I wandered around there was nothing but kids yelling, kids being kids and kids blocking every single little window anywhere. At the end of the day though - I was a guy alone going to an aquarium at noon on a weekday - what should have I expected if not that?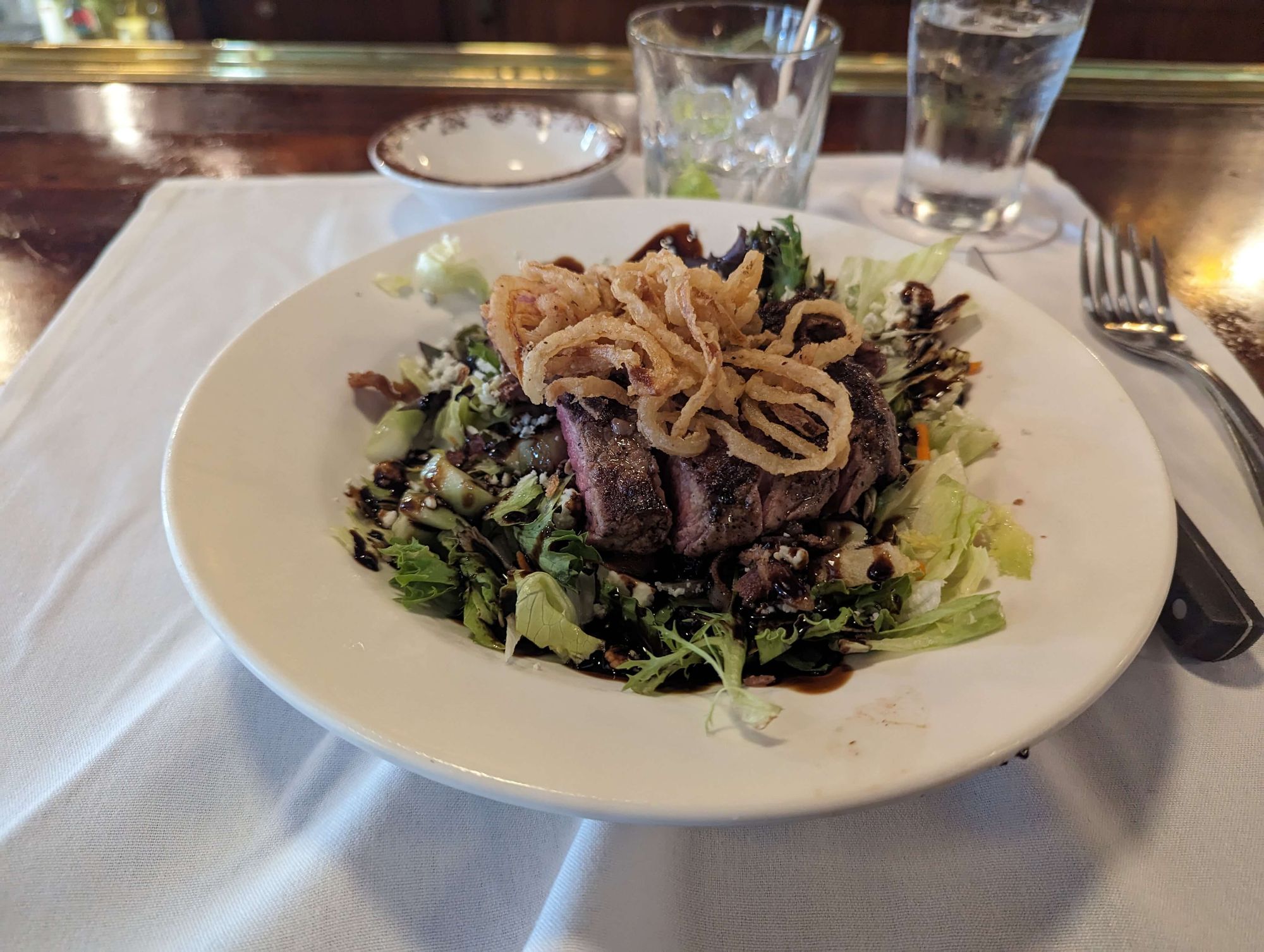 Once that was done I was a bit hungry and my room still wasn't available, so I stopped at a place known as Ted Montana's as it looked to have some nice bison options. This place was elegant for a lunch room meal, but was a great meal after a morning of flying. A perfectly cooked steak and salad with an alcoholic milkshake to celebrate taking a vacation.
Burning a few hours there and my room was finally ready - I could shower and drop off my stuff to prepare for the Friday event. One thing I quickly learned with all these restaurants is you either have security at the door or a prepared routine for an unfortunate homeless invader. I saw twice at the bar we were at - someone come and make a scene - the response from the business was to provide to-go containers of food and drink and put them on their way elsewhere. I guess that's the easiest method if you don't have security on the door.
I don't really want to harp on the misfortune of others, but there was a good deal of homeless interactions while in this city. These weren't easily ignored like in other cities as the individuals would follow you with simple asks of like "just 1 meal, just 1 donut, just 1 train ticket" until someone folded. It seemed like every other street just smelled of pure urine or worse - a sad sight to experience.
Friday came to an end and it was Ingress day. Discussing the inner workings of an anomaly from a specific faction is not something I can do. The other team would be quite interested in all the details of that - so instead we skip directly to the after party. This was a bar on the outer edge of downtown with excellent food options and an outdoor area to fit our large group of nerds. I had an excellent smash burger and a constant stream of gin. A quick Uber back to the hotel and Sunday was here.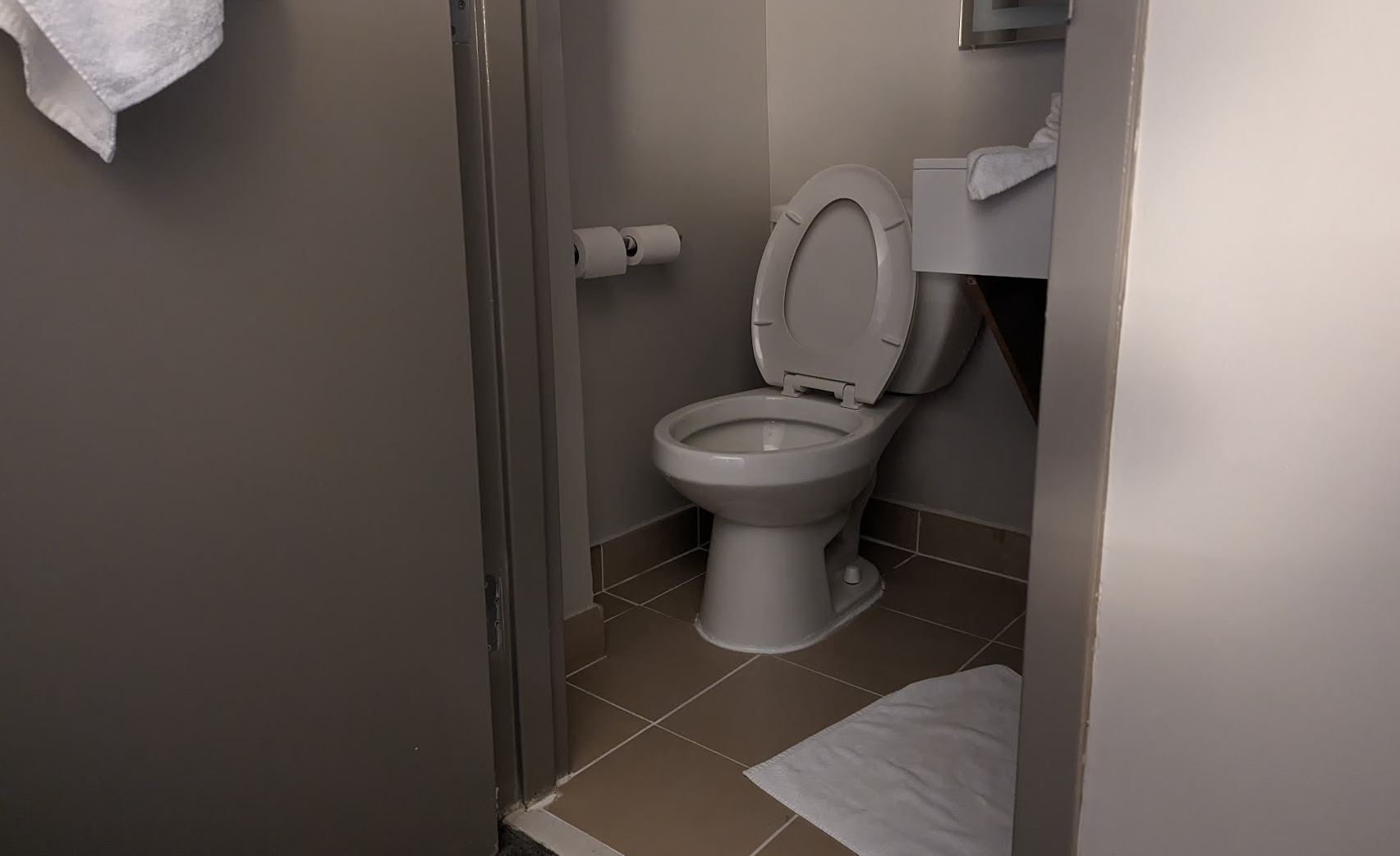 However, a quick rant the hotel bathroom toilet was inches from the wall. There just was no way for a regular 6ft person to use that bathroom in any normal form.
The non-competitive event on Sunday was exploring the city which always ends up being a great exploration of parks, food and people. I may not travel to random countries around the world, but every quarter I do learn a bit about some random city in the states.
The morning started early meeting for photos at 9:30am at a park. This is where I connected some dots that made me a tiny bit angry. I saw strewn about all these little styrofoam containers with remaining food all over the ground in various areas. These seemed like the same containers the homeless invaders to various restaurants were given as they were kicked out.
I hate just discussing the misfortune of others - but it felt like to me that it was so inconsiderate to be given free food to just leave it on the ground uneaten. I saw trash cans on various corners of that park. So what did our group have to do? Clean up a medium-sized mess so we could take some photos in front of a fountain. I just felt mad about it and that may not be the right emotion to feel. Clearly from the stories of some locals - it wasn't like that in the 80s or 90s.
However, clearly in 40 years a lot has changed. It could be the drug epidemic or mental health crisis or some combination of the fact a dollar is next to nothing compared to its value in the 80s. I say all of that because just because I find it interesting that a city will design and build these interesting public bathrooms that have timers on them and auto cleansing systems to solve the current visible problem. Though in software engineering - sometimes you gotta find the root cause or you are just patching bandaids on a problem that will return.
As I sat catching up on news on various bars - what a weekend to travel. OpenAI drama is through the roof and my fantasy quarterback Burrow is out for the season.
I sit here in the Atlanta airport with hundreds of thousands of people around preparing to board my direct flight into Tampa. I paid the extra $30 so I could get A14 because I forgot to checkin on Southwest - this saved me from having C16. The weekend is over and all I have to do is fly and drive home. The post ends here, but my journey home isn't.