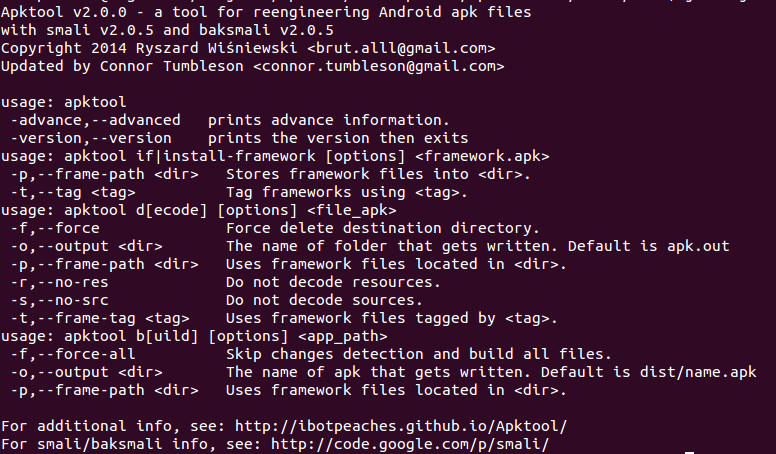 Apktool v2.0.0 has been released! The 2.x release was started on May 19, 2013. Almost 2 years later it has finally been released. Now, we have had beta releases and release candidates for awhile so we didn't have a blackout of apktool for 23 months.
This release had 49 commits by the following 6 people
Connor Tumbleson (iBotPeaches) - 41 commits
Greg Leach (simtel12) - 3 commits
Rover12421 - 2 commits
thuxnder - 1 commit
Jeremy Hornberger (jhornber) - 1 commit
Furniel - 1 commit
With the release of v2.0.0. Apktool will adopt Semantic Versioning.
Changes since RC4
Android 5.1 Support
New Apktool website since Googlecode is shutting down.
[#658] - Fixed issue with double escaping of & and <. (Thanks jhornber)
[#840] - Add support for BCP-47 tags.
[#878] - Fixed issue with unknown files not respecting compression method. (Thanks simtel12)
[#890] - Fixed issue with apktool branding apks with platformBuildName.
[#904] - Fixed issue with multiple dex files skipped when using -s.
[#636] - Fixed issue with @string references in <provider> attributes.
Increased performance. (Thanks thuxnder & rover12421)
Fixed issue decoding .spi files as 9 patch images. (Thanks Furniel)
Notes
If this is your first v2.x release. Read the migration instructions here.
Android 5.1 support was added, so please delete the file at $HOME/apktool/framework/1.apk before trying 2.0.0. A change in the internal framework requires this file to be deleted.
Download
Links